From destruction to darties
A look back at St. Patrick's Day at UWO☘️
While St. Patrick's Day in the U.S. is celebrated in some slightly unconventional but interesting ways, including drinking green beer and dyeing the Chicago River green, the history of celebrating this holiday in Oshkosh has been a bit more reckless.
"If you can't be in Ireland, be in Oshkosh" is what television host Johnny Carson supposedly told his fans on his late night show in 1979 when talking about where to celebrate St. Patrick's Day. Little did Oshkosh residents realize just how influential this single sentence would be.
On St. Patrick's Day in 1979, The Advance-Titan (A-T) staff was shocked when they covered a story on the way people were celebrating that day locally.
"What a blast from the past," 1979 A-T photographer at-scene Michael Sears said. "This was 44 years ago. I could see it coming and knew it was going to be crazy. Nothing like that had happened in the past."
The day resulted in 36 arrests and more complaints to the Oshkosh Police Department: 22 for disorderly conduct, four for open intoxicants, four for indecent exposure (urinating in public), three for throwing missiles, two for inciting a riot and others for drunken or reckless driving. 
Sheriff's deputies reported that only nine of the 36 arrested were UW Oshkosh students. 
"There were people coming in that were from the surrounding communities and other colleges," Sears said. "I ran into people from La Crosse and Eau Claire."
Besides arrests, there were eight complaints of hit-and-run property damage, 26 complaints of general property damage (including vehicles), four battery complaints, 21 disturbance complaints and 25 auto accidents.  
Sears said it's important to note that the drinking age in Wisconsin at the time was 18. 
"This meant that for a lot of activities, instead of being confined to house parties, the students could go to bars," Sears said.
Co-Editor of the A-T in 1979 Tom Kobinsky said alcoholic beverages were everywhere. 
"Beers at Reeve Union (the Draft Board was the name of the bar there) were 25 cents for a red cup; pitchers were $1.75," Kobinsky said. "So beer was plentiful and so were the drinkers."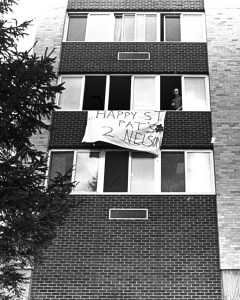 Kobinsky said the beer sold at Reeve that night, and at several other nearby pubs, was green. This was the first time he had seen green beer. 
"[I was] slurping down my first of the night, courtesy of a group of girls who each had a pitcher, outside a bar," Kobinsky said. "One of the girls said what was really cool was that the beer actually made the drinker's pee turn green. Then she and a companion proved it by zipping down their jeans and indiscreetly peeing onto a nearby snowbank. Indeed, it was green."
Kobinsky's job at the time for the A-T was to watch and listen to the crowds from the "sidelines" while his Co-Editor Dave Engels reported on the police actions.
"Neither of us had any idea drinkin' the green beer would lead to mayhem, a car flipped over and traffic lights toppled," Kobinsky said. "And snowball fights from one side of the street to another, and the cops breaking them up, only to resume flinging the snow minutes later. Cars passing by were of course by nature, challenging targets, too. Damage? Probably."
Sears was a commuter student at the time, living in Ripon. He said there was a report on TV around 6 or 7 p.m. The crowds were building up at the bars on the news with an increased police presence. 
"I drove back over [to campus]," Sears said. "I thought 'This is good, this will make something.' I parked my car behind Kolf and walked to the bar street [Wisconsin Street]. Almost all the trouble was right by those bars. As the night went on, the crowds got rowdier and rowdier."
The crowd on Wisconsin Street was estimated by local authorities to be 1,000 between 11 p.m. and midnight. Sears said the night's rowdiness he saw started by Kelly's Bar.
"The crowd was several hundred people out in the street," Sears said. "As the night went on, people got rowdier as they got drunker. They started doing stuff. As cars went by, they started throwing beer bottles."
With time, crowds started rolling a tire into traffic. He said some cars were getting hit and drivers were getting mad, but he doesn't recall any cars seriously damaged. 
"An hour later, there was a compact car around a bar parking lot that they ended up tipping over," Sears said. "There were police by Kelly's, but there were so many people between the police and the car that they didn't even see it get turned over."
Previous UWO Housing Director Jim Day reported an incident where a group pulled up in a car, announced it was stolen and turned it over to the mob for further vandalism. 
Damages were done on campus as well. Day reported in 1979 that damages in the residence halls totaled $2,200, with the greatest destruction at Breese Hall (now Horizon Village) with eight damaged lounge chairs, a doorway window broken at Donner Hall and damages totaling $350 in Scott Hall.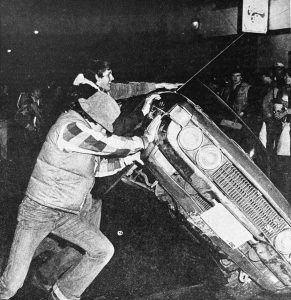 Day said 30 to 50 percent of damage costs were to be billed to individuals who were caught at the scene or were tracked down. 
Personal damages were caused from students throwing objects, including TVs, out of their dorm windows and almost hitting those walking below. 
After the flipped car, Sears said he thought things were winding down and the police seemed overwhelmed. He said he didn't think the police realized how many people were in Oshkosh that day at first. He was wrong about things settling down. 
"Then people climbed up the stoplight and started working on that," Sears said. "They started [moving it] back-and-forth and I thought 'this thing is gonna go.' Sure enough, they cracked it and broke it. It went over real slow like a tree."
Kobinsky said the cops noticed the people on top of the stoplight, unlike the flipped car situation.
"The cops noticed that and quickly came over and told the kids that the wires in there carried like 240 volts of power and if the wires made contact with them, with a beer in their hand and/or wet feet, they'd be dead," Kobinsky said. "The kids obediently backed away."
Sears said those who broke the light were tracked down, fined and cited. None of them were local and they didn't know each other. 
"This mob mentality took over," Sears said. "People did stuff that they'd never think of doing on their own, but when they're part of a large group, it seemed to be the thing to do at the time."
An hour after that, Sears said it seemed like the Oshkosh and UWO Police Departments put out a call for mutual assistance in the community. 
"More and more cops started to roll in," Sears said. "Then it quieted back down. They seemed to have been able to put a cork in it."
Kobinsky said a crowd of around 150 people were ready to go to Main Street where "the potential for vandalism was more attractive," but the cops blockaded the crowd.
He said he recalls the night being peaceful despite all the arrests.
"I didn't see any violence that night or any abuse going on between kids and police," Kobinsky said. "There were a couple dozen cops in helmets carrying night sticks, but no weapons or anything. The cops mostly stood around watching from street corners."
He said a snowball fight broke out where students threw snowballs and the cops deflected them while not moving from their positions. Eventually the kids got bored and it ended.
Sears said the following year, the police were ready for the crowds. 
"There were police up the wazoo," Sears said. "I went back [to campus] thinking there'd be more to cover. They had helmets on, batons, tear gas kind of spray and dogs. They were a presence. I didn't see any arrests. People were warned. People did what they were told."
Kobinsky thinks the rowdy celebration of St. Patrick's Day was just students looking for a good time and a break from weeks of study and cold weather. 
"Oshkosh had a reputation as a cool destination for a St. Paddy's day party: cheap beer, and for those who could not venture some place warm during break, Oshkosh fit the bill," Kobinsky said. 
For 25 years starting in 1982, UWO's spring break was scheduled to occur during the week of St. Patrick's Day in an attempt to minimize crowds and damage. 
St. Patrick's Day is still celebrated in Oshkosh today, just at a much lower-scale than in the '70s and '80s. Day parties, more commonly known as darties, are popular with the warmer spring weather surrounding the holiday. A few of the bars from the 1979 celebrations still exist and continue to be attractive to college students.
Chances are that despite a few green beers being served, this St. Patrick's Day will be pretty quiet in Oshkosh. Fortunately, there's no need for tear gas, dogs or batons anymore. 
"It was an interesting night," Sears said. "Oshkosh, then as it is now, is kind of like a big party school. The 18-year-old drinking age combined with that particular night got a little bit rowdy."