'I am still learning'
Provost Koker retires from UWO after 32 years
Not many faculty or staff at UW Oshkosh can say they have worked at one university for 32 years. But Provost John Koker can say just that.
"I walked on a college campus for the first time in the fall of 1980 as a student and 43 years later, I'm still on a college campus," Koker said. "I haven't missed a semester yet. It's been quite the blessing to be a part of this community for this long. There's so many opportunities to get involved. [For] the last 64 semesters I've been at Oshkosh."
A timeline of Koker's career 
Koker's career at UWO started in the math department in April of 1991. He taught classes for future elementary and middle school teachers and was the adviser for the mathematics minor for elementary education majors. 
"I spent a lot of time involving myself in issues around teaching and learning elementary and middle school level math," Koker said. "I did a lot of professional development at that time of my career."
In the early '90s, he became involved in professional development grants, including Eisenhower Grants and Title II Aid Grants.
"That was some of the most satisfying times of my early career," Koker said. 
During one of his breaks in January, he taught seventh and eighth grade math classes for a couple of weeks. He then ran a number of professional development workshops on Native American and Indian reservations across the Dakotas and in Wisconsin. 
In the '90s, he became chair of the Institutional Review Board (IRB) of Human Participants and got involved in the Faculty Development Program on campus. 
"In 2000, after I had been here 9 years, I was elected chair of the mathematics department," Koker said. "I was chair from 2000 to 2006. During that time, I still was very involved in professional development work with teachers, but also got more involved in university service around campus."
Koker said his life changed in April of 2006, when then-Provost Lane Earns called him to discuss the open position of Dean of the College of Letters and Science (COLS). 
"I kind of laughed," Koker said. "The first time he asked [if I was interested] I said no. The second time he asked I said maybe. Maybe the third time he asked me I said yes." 
He started that position in July of 2006 and found himself getting involved at a different level in university service. 
"What I didn't like about the dean job was I worked with students less," Koker said. "I missed my daily interactions with students."
After being selected for the position after a national search, he held his dean position for 11 years. In 2017, Chancellor Andrew Leavitt called to ask him if he would serve as interim Provost as Earns had announced his retirement. 
"The first time Chancellor asked me to be interim provost, I said yes," Koker said. "I assumed the [interim] position on July 1, 2017. That's the position I've been in since then. After 32 years in a variety of positions, I decided it would be a good time for me to step aside and do something else."
Reflecting on campus accomplishments over 32 years
Koker said one of the biggest things he has been a part of while here was revamping UWO's general education program, which he said is a big process on any campus. 
"That was a big accomplishment," Koker said. "The new [program] has been in place for 10 years. It's time to take a good look at it to see if it's really doing what we want it to do for students."
As dean, he helped bring in the first engineering technology programs to campus, which included mechanical, environmental and electrical engineering technology as majors. Just this past semester, UWO got its first engineering program for biomedical engineering, set to start in fall 2023. Work is also in progress to develop an automation engineering degree.
"We certainly have had other majors [added] along the way," Koker said. "Women and Gender Studies moved from a minor to a major. We recently launched a number of new ethnic studies programs."
Various buildings were constructed or renovated during his tenure. To name a few: the Student Success Center, Sage Hall, Horizon Village, the Recreation and Wellness Center, the Culver Family Welcome Center, the intramural fields and the current renovation of Clow. 
Taking advantage of hobbies on campus
Koker appeared in more than a dozen plays on campus in all sorts of roles.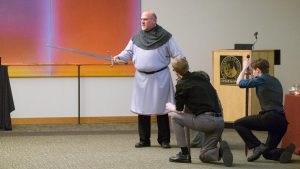 "I was in my first play when I was 14 years old," Koker said. "I was in plays all the way through high school. When I went to college, even though I was a math major, I was in a play almost every semester. I'd say all my friends during the day were my math friends, and all my friends at night were my theater friends."
An old math professor of his told him, "It's a lot easier to make math your living, and theater your hobby." 
He auditioned for his first play at UWO in spring of 1992. Sometimes he would get a part and sometimes not.
"As I aged, I got to know the faculty [of the Theatre Department]," Koker said. "I'd tell them whenever they needed an old guy, they should just call me. It was a great, fun way to work with students in a different way."
He also made appearances in various faculty, alumni and student film productions. 
"The most fun [movies] I've done were movies written, directed and produced by radio/TV/film students," Koker said. "I've always tried to maintain my connection to acting."
Chair, Head of the Acting Program and Director Jane Purse-Wiedenhoeft said the productions Koker has performed in over the years were while he served as Dean of COLS or as a faculty member in the Math Department.  
"If there was a role that we were unable to fill and it seemed like a good fit for John, we would contact him," Purse-Wiedenhoeft said. 
Purse-Wiedenhoeft said in "Laughter on the 26th Floor," he had to learn a quite extensive stage combat scene. In "The Boys Next Door," he played a one armed man who was an abusive parent. 
In "My Soldiers," he was an off-stage narrator. Purse-Wiedenhoeft said this show was toured to the regional theater festival and Koker was able to attend with the faculty and students involved in the production.
Sticking to his math roots
Koker said it has been important for him to stay involved in mathematics.
"Something that people might not know was that I used to spend time at meetings and it might have looked like I was taking notes, but I might have been working on some sort of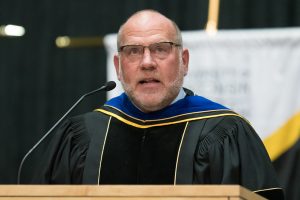 mathematical puzzle or problem in the background, kind of multitasking," Koker said. 
When he became Dean of the COLS, one of the things the college did at the beginning of the semester was to host an opening day meeting. Part of that event was an address given by the dean. 
"I remember being quite nervous about giving my first formal address to the college as interim dean [in 2006]," Koker said. "It was short; it was OK. In 2007 or 2008, for some reason, I started my talk with a math problem. I connected this idea of the problem and weaved it through the talk. I got a lot of positive comments that people enjoyed the math and the way the talk was framed around this problem."
So he included math in his address the following year, but after not doing it the year after that, people wondered where the math problem went. 
"That became part of me," Koker said. "When you write or speak, people say write what you know or speak what you know. That's part of the way I think and the way I communicate is to compare something I know in history or mathematics."
When COVID-19 hit campus hard, Koker said the Emergency Response Team sent all the messages to faculty and staff about how things were to be handled and the decisions the university made. 
Koker said he had a part in those communications, but in his own messages to the Oshkosh community, he would let everyone know he was thinking of them and encouraging them. 
"[The emails] usually started with some sort of math puzzle or problem that had to do with the day," Koker said. "I'm sure I annoyed some people filling their inboxes, but I also got a lot of positive comments about that. While we were dispersed, I tried to write some sort of silly, comforting, community building message at least once a week."
He still continues to send out emails with math incorporated in some fashion.
"I always get a kick out of the bits of math that Provost Koker inserts into his messages," Professor of Mathematics John Beam said. "I'm sure he does it mostly to amuse himself and his mathematically oriented colleagues, but I will admit that more than a few times he's derailed the work that I should have been doing because I had to stop and think about the math."
Beam said Koker's impact on the department will be missed.
"I know that all of us are sorry to see John Koker retire, and we will miss him and his emails," Beam said. 
What's next?
Koker said spending time with his grandchildren is at the top of his list of things to do with his free time. 
"I certainly hope to spend more time with [my grandkids], especially before they grow up and want to spend more time with people their own age," Koker said. 
He is currently the president of the Board of Directors of Habitat for Humanity Oshkosh and he also hopes to increase his involvement upon retiring.  
He foresees staying involved with the university as a friend or even an ambassador. He would like to help move the mission of the university forward through fundraising, especially through scholarships for students or helping with alumni relations. 
"I hope to not just disappear from the UWO community," Koker said. "I also was thinking about staying up a little later and sleeping a little later in the morning, but we'll see how that works."
One of his favorite pastimes is golfing which he looks forward to enjoying this summer. Besides golfing, he anticipates cooking more and having family and friends over for dinner.
Words of advice for current staff, faculty and students
Throughout his 32 years of being a faculty member at UWO, he has constantly reminded himself "students first."
"That's really why we're here," Koker said. "It should be obvious, but I think sometimes we have to remind ourselves that the job here is not about 'me.'"
Even with other opportunities on other campuses available, Koker stayed at UWO. 
"I wouldn't have stayed here this long if it wasn't a good place to be," Koker said. "To be transparent, after being dean for 11 years, I did apply for a few other positions. I did have an opportunity to go a couple of times, but in the end, I wanted to stay here. I felt like there was still work and contributions to be made."
Koker said he is satisfied with his career at UWO. 
"Once I received the offer to be interim provost, I knew that this was going to be the place where I finished my career," Koker said. "I've found [Oshkosh] an extremely satisfying place to live and work mostly because of the people I get to work with every day and the students I get to deal with. I'm a Wisconsin person, through and through."
Sara Pritzl, unit business officer for the Office of the Provost and Vice Chancellor, said Koker will be greatly missed.
"John has provided a well work-life balance for his staff," Pritzl said. "He created a work environment that was flexible, guided, directed and fostered to everyone who stepped into our office."
She said she was very fond of the five years she has worked with him.
"I will miss his expertise and leadership," Pritzl said.  "His continuous support over the years has been instrumental in my career growth."
During his time as a student, Koker made lifelong friends. He encourages students to go out of their way to make connections. 
"I stay in touch, interestingly after almost 40 years, with my college roommates," Koker said. "Another great thing about college is that you make these friends, not just because you live together. I also met my wife at college. I look forward to spending more time with her."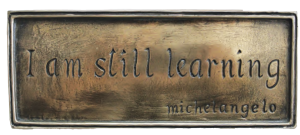 Koker said his biggest accomplishment has been seeing thousands of students graduate. 
"I'm a first generation college student," Koker said. "I was the first one in my family to go onto college. I had no idea what I was getting myself into. Maybe that's why I never left."
Upon retirement, Koker is reflecting on his career. 
"We're never finished," Koker said. "We can stay in school as long as we want. What I always encourage people is lifelong learning. That's something we need to do our entire lives."
A little gold sign in his office says "I'm still learning."
"I put that right by my door so every time I leave, I remind myself that I'm not finished yet and there's a lot of things I don't know," Koker said. "We've accomplished quite a bit and we should celebrate our accomplishments, but we shouldn't just rest on those. We should always try to become better and learn new things and try new things and do things differently."