UW Oshkosh staff and students discuss the implications of 'Don't Say Gay' bill
Multiple states are attempting to limit LGBTQ discussions and curriculum in K-12 schools, and LGBTQ students, faculty and staff at UW Oshkosh said they are feeling a big slap in the face.
"It just feels like we're taking a step backwards as a society," LGBTQ student Lexi McCarthy said. "[These bills being passed] prove a point that we are still not in a place where things are totally accepted and we still need to really work hard for these sorts of rights."
According to an Education Week analysis, nearly 30 bills from 15 states are intending to limit school clubs for LGBTQ students, limit teachers' and students' use of gender pronouns and restrict "curriculum, instruction and library books that feature LGBTQ themes."
The biggest legislation of the close to 30 bills to cover the media is the Parental Rights in Education bill, more commonly known as the "Don't Say Gay" bill in Florida.
Supporters of the bill say it allows parents to determine when and how to introduce LGBTQ topics to their children, but critics say when kids are limited in spaces that affirm their gender identity, it could cause more harm.
"We have so much evidence that someone's sexuality and gender cannot be changed," Director of the LGBTQ+ Resource Center Liz Cannon said. "We know the amount of bullying – verbal and physical – LGBTQ+ youth experience. To see so many states start to jump on this bandwagon of discrimination is […] well so many words come to mind. Disheartening is probably the kindest one I have."
Program Assistant for the LGBTQ+ Resource Center Zayn Croft said this legislation sends an unsafe message and empowers the wrong people.
"[The bills are] especially dangerous because our youth are already facing high rates of declining mental health, and many K-12 kids are at higher risk of self-harm and suicide," Croft said. "When lawmakers try to tell kids that they can't play sports in peace, they can't use the bathroom in peace, they can't learn in peace, they can't talk about their identities aloud in the classroom, it only makes their lives more suffocating to live."
McCarthy is writing her senior thesis on how COVID-19 has affected the LGBTQ population at UWO. She said children at school are pushed into gender categories from a young age, despite Florida's Gov. Ron DeSantis' statement regarding the "inappropriateness" of letting children in school "be whatever they want to be."
"Society indoctrinates people into these gender categories already," McCarthy said. "They're already shoving these kids into categories that they may not want. Teachers should be able to teach equality and expose them to a wide variety of information and ideas about themselves so they can decide for themselves what they want."
Croft said teachers and parents should put their own biases aside and teach children about gender identity and what it really means.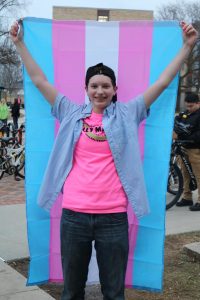 "Parents and teachers alike tell young learners every day that they can grow up and be whatever they want to be," Croft said. "If a child says to me that they want to be a pilot, who am I to say this is inappropriate? If a child tells me they want to live in Spain, who am I to tell them to not say that out loud? If a child tells me they want to be a parent and have 10 kids, who am I to deny them an education that would help them pursue that safely? Why is it suddenly different if a child expresses their gender identity?" 
According to the Workplace Diversity, Equity and Inclusion Statement, "UWO strives to maintain an inclusive and equitable environment." Cannon said this is more of an idealistic vision of where UWO wanted to be rather than where it is. 
"So many of us for so many years have worked and are working to create such an environment," Cannon said. "It's been the work of my career here at UWO. We have not yet succeeded, so we are not at the point of maintaining. Those of us in the room who created that statement were many of the people who are doing the work on campus."
Croft said amidst the fear and uncertainty, the most the LGBTQ+ Resource Center can do is uplift students to make them feel welcome and safe on campus.
"I believe the university has taken many steps in the right direction, and the institution has many policies in place that support LGBTQ+ students," Croft said. "As we all know, actions speak louder than words. It's one thing to say the commitment to an inclusive and equitable environment is of paramount importance, and it's another thing to demonstrate that." 
McCarthy said she wants to let LGBTQ community members both on and off campus know that they are not alone and there is always someone to talk to.
"For those at UWO or just allies that follow the cause who see these laws being passed, it's definitely scary," McCarthy said. "It makes you think 'what if it happens here.' Reading about all these governments trying to take away our rights, it's hurtful and it's painful, but hang in there and keep fighting."
Cannon said this legislation is an indication of how some, but not all people in the U.S. think. 
"I see this type of legislation as a reminder that UWO can either lead in creating a society in which all human differences in identity and intersections thereof are embraced, or one where the privileged identities hold on to their privileges and their idea of what society should be and punish those who do not conform," Cannon said. "We need to decide who we want to be."