UWO must rein in its spending
[media-credit id=276 align="alignleft" width="300″]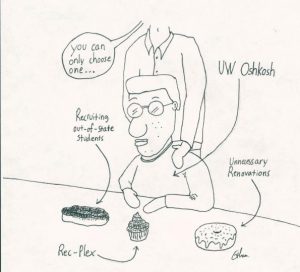 [/media-credit]
Most students trust that the thousands of dollars they spend on their college education are being used well by their university. However, there are times when this money is spent on unnecessary expenditures.
In the past, the UW Oshkosh has not spent these funds reliably. With all of the recent financial unrest, it is more important than ever for UWO to spend money wisely.
Chancellor Andrew Leavitt cited multiple reasons for the decline in UWO funds since 2014 on the official chancellor blog.
"There are several reasons we see declining revenue at UW Oshkosh," Leavitt said in his email on Jan 29. "The most obvious is our declining undergraduate enrollment, which is largely a result of Wisconsin's declining birth rate. This has reduced the numbers of high school graduates statewide."
With the Wisconsin birth rate lowering, the University could invest in trying to recruit more students from other states in order to increase the amount of incoming students. Leavitt mentioned that UWO has increased the number of recruiters, deployed new strategies to track prospective students and increased admissions marketing efforts.
Oshkosh Student Association President Jared Schadrie said the lower birth rates in recent years has been affecting campuses throughout the UW System.
"This is a hurdle that most campuses around the UW System are having," Schadrie said. "In the last couple years there are less people that are in high school and graduating, so UWO is seeing this change in their enrollment and their revenue."
Another reason mentioned was how the state has been reducing the amount of financial support given to colleges and universites in recent years.
"Other factors leading to declining revenue include the significant reduction in state support during the 2015-2017 biennium, coupled with frozen undergraduate tuition and a tuition plateau set at 12 semester hours," Leavitt said. "The tuition plateau allows students to take additional semester hours without having to pay additional tuition."
The tuition freeze is great for students, since it allows them to take more classes for less money. However, the University knew ahead of time that the freeze was going to happen, but the amount UWO is spending has not decreased.
The final reason Leavitt mentioned was a policy within the UW System that forces universities that fall short of the tuition collection goals to pay back the amount that they fell short.
"Per UW System policy, UW Oshkosh is permitted to keep any tuition we collect over the target, and the years we fall short, we must write a check to the UW System to repay the shortfall," Leavitt said. "Every year since fall 2016, we have fallen short of the target. We have used funds held centrally or fund balances to repay the UW System."
Since UWO's expenses have been higher than the University's revenue since 2014, then why has the University continued to spend so much money every year?
OSA Vice President Brett Spangler said with the need for UWO to have a tighter budget, it is much more difficult for it to make up for such a large deficit in revenue.
"The recently uncovered financial problems are concerning for sure," Spangler said. "$9.6 million is a large deficit to make up when we are already being forced to reign in our budgets."
Spangler said there is a large amount of planning that goes into how the University uses its funds, and that transparency about spending is important to chancellor Leavitt.
"Due to the lack of financial support from the state and the problems with our foundation, we don't have large budgets to start with," Spangler said. "However, whenever we do spend money on projects or programs, it is always spent very wisely. A lot of planning goes into any use of funds, and Chancellor Leavitt is good at being transparent about how they're being used and getting feedback on the projects."
With the University operating as a deficit, the construction of the Rec Plex and much of the recent renovations should have been postponed until UWO could afford such costly projects.
Schadrie said while it's great the chancellor is being transparent about the plans to fix these financial problems, it would be better for students to be able to have a say in the decision-making process.
"As I have heard many times, this financial plan is meant to make sure our university's revenues are matching it's expenditures," Schadrie said. "I am glad that our chancellor has been open about these plans, but I do hope that students are not only represented in the advisory bodies, but are key in the decision making when it does come to any type of cut to student services."
However, rather than just rely on select groups to weigh in on how funding should be used, it would be more inclusive if there were polls sent out via email to the student body. These polls would allow students who don't have the time to be a part of OSA to have a vote on what projects are best to use their tuition on.