Picky eaters, it's time to try more food
"Try it; it's good for you" is a phrase quite commonly said in households. Lots of people struggle with trying new foods, leading them to eat the same foods over and over.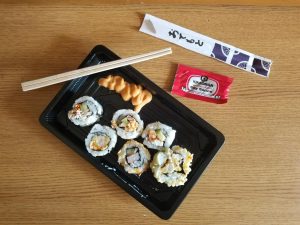 According to The Washington Post, 26% of American adults identify as picky eaters. But what is considered a so-called "picky eater"?
National Center for Biotechnology Information shares that common traits of picky eaters include "eating a limited amount of food, refusing food (particularly fruits and vegetables), being unwilling to try new foods, accepting only a few types of food, preferring drinks over food and having strong food preferences."
Sound familiar? Maybe a few people come to mind.
One of my best friends is quite a picky eater. Most of the time she sticks with plain foods. No sauce. Everything plain. Burgers, chicken nuggets, fries, rice, pizza — you name it.
An overly extensive list of foods she dislikes includes chocolate, cheese, spicy foods, beans, fish, beets, avocado, onions, mushrooms, milk, peppers, olives and honey.
A combo of genetics and environment are to blame for picky eating, which most commonly develops in childhood.
Hildy S. Lipner, chief of pediatric speech pathology at Joseph M. Sanzari Children's Hospital in Hackensack, N.J., said that the children she sees with picky eating problems are usually between 18 months and 3 years old.
Already at this age, children have their eating patterns well established. These patterns are deeply reflected by the way parents navigate feeding their children as toddlers between the ages of one and three.
Once babies are able to start eating solid foods, incorporating a variety of foods into their diets decreases the chances of being picky. With a greater variety of foods consumed comes a balanced diet.
As much as not being picky and having a balanced diet is important, one's willingness to try new foods is also beneficial to one's cultural awareness.
This past week at UWO, professional chefs came in and served some fantastic dishes. On Wednesday night, there was "Premium Night, BBQ."
The barbecue layout included brisket, pulled pork, chicken quarters, smoked barbecue beans, coleslaw, potato salad and vegetarian kabobs. Chef Fritz Niebergall was in charge.
Fritz is a common name at UW Oshkosh. He is the Resident Dining Manager and hosted the Fritz-a-Que celebration for seven years in a row in the summer in Oshkosh.
He told me while I waited in a long line that his brisket was cooking for 14 hours, and let me tell you, it was worth the wait.
Barbecues, the way that Americans know them now as meat cooked over a grill or pit, covered in spices and basting sauce, originated in the Caribbean.
According to the book "Planet Barbeque!" written by award-winning grill expert Steven Raichlen, the word barbecue comes from the language of a Caribbean Indian tribe called the Taino. Their word for grilling on a raised wooden grate is barbacoa.
Across the world is a whole different culture of food: Japanese sushi.
On Thursday, Reeve Marketplace brought in Mr. Pak's sushi. After finally getting up to the front of the line, there were eight or nine sushi rolls to choose from.
Never having eaten sushi before, I let the man serving me choose any six for me to try. The sushi was served with spicy mayo, soy sauce and, of course, chopsticks.
I am not too sure of what I ate, but I enjoyed it nonetheless, and it seems like other students enjoyed it as well since Mr. Pak's will be back March 18, April 15 and May 13.
While most people think sushi originated from Japan, sushi traces its origins back to the rice fields of China. According to Roka Akor, Japan is certainly the sushi capital of the world and responsible for introducing the dish to travelers, but sushi traces its origins back to a Chinese dish called narezushi. This dish consisted of fermented rice and salted fish.
Sushi is an especially difficult dish for picky eaters to eat as it contains raw fish and multitudes of vegetables with condiments on the side to dip in.
Pediatrician Tanya Altmann, MD, states that "if a picky eater isn't getting enough good nutrition because of being too selective, in individual cases, picky eating (especially extreme picky eating) can lead to both short- and long-term nutrient deficiencies and other problems."
To picky eaters: don't worry about having to try all new sorts of foods you are uncomfortable with, but every once in a while, try to test out a new food. It will only benefit you.