Hammocking is a real word, I swear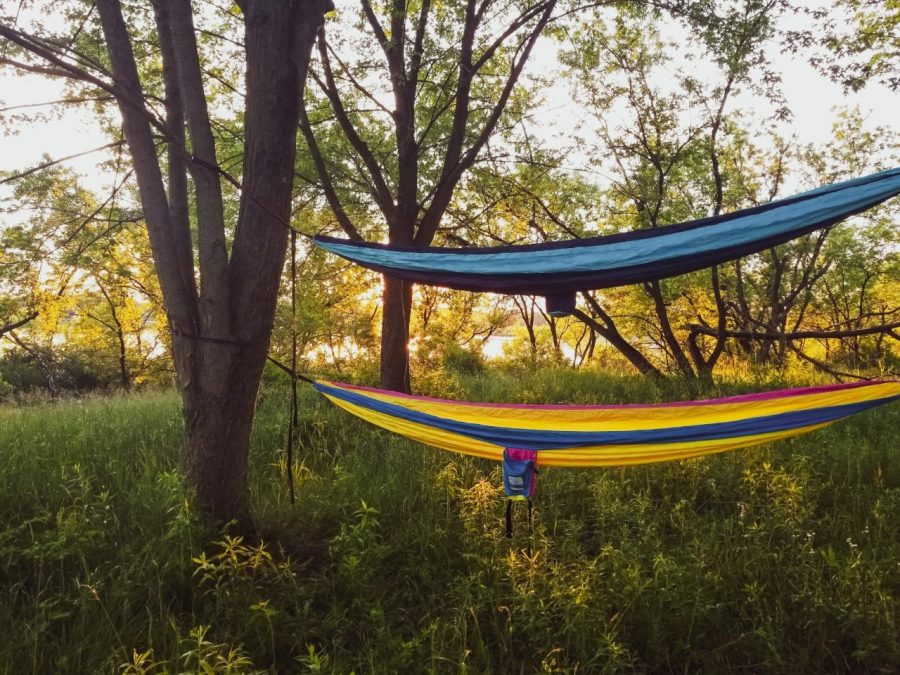 There is no doubt that the popularity of hammocks has increased over the last few years. According to Allied Market Research, the global hammock market size was valued at $380.2 million in 2020 and is projected to reach $639.8 million by 2030.
In spring of 2020, I too decided to purchase a hammock of my own. Late spring and summer of 2020, my friends and I, who also had all purchased hammocks, started hammocking across Wisconsin.
There is debate between dictionaries whether or not hammocking is a real word. In my opinion, it is a word and everyone should let it be.
If you have walked around campus, by the trails on the Fox River, or at Menominee Park, I bet you have seen a hammock or two. It is hard to miss the brightly colored pieces of material strewn up between trees.
Hammocking seems to often be referred to as a summer hobby, but it can also be done during the winter, or any time. I do not like the cold and would not choose to hammock in the snow, but for some, it is their preferred weather.
I have two favorite ways to spend time hammocking. There is a park near my house with a shelter and rafters above. Even if the weather is not great, this is a great place to set up in. There are plenty of parks and stops with shelters to do this in the Oshkosh area.
At my park back home, we take a projector and screen to watch movies on. If watching movies is not for you, grab a book and relax.
If we are not using the projector at the park close to us, our second favorite option is going to Pike Lake State Park. There are a few sets of close trees to strap up hammocks to, with a perfect view over the lake to watch the sunset. Putting on some music while watching the sun set is a great way to end a long day.
When not at home, my favorite place to hammock is certainly at Menominee Park. The trickiest thing to do when hammocking is finding a place to set up. If two trees are a few inches too far apart, you are out of luck. Once you find two decently spaced trees, you are set.
I do not want to give away my favorite spots because they might be full after the fact, but I will say the far east and northeast areas of the Pratt Trail provides some great spots.
Last school year, there was a great set of trees to use outside of Taylor, but when the sidewalk was being redone, the trees were cut down. Otherwise, like mentioned earlier, the paths along the Fox River have good spots.
The Outdoor Adventure Center in the Student Recreation and Wellness Center has hammocks available for renting, so make use of that. If hammocking is not your forte, try renting out a kayak or paddle board before the weather gets cold. There are too many resources available in there not to take advantage of them.
Taking time to stay active and outside while at school has benefited me in my last year here. By spending time hammocking, I have learned that taking breaks is a necessity. If you are feeling overwhelmed, go hammock. The position you are laying in on a hammock often relieves aches and pains and promotes relaxation.
If you are up for a fun challenge and you live in a dorm, put up a hammock between two lofted beds. It makes for some fun stories and conversations.
Go hammocking; it is a verb to me.