UW Oshkosh falls to Badgers
Women's basketball faced off against the NCAA Division I Wisconsin Badgers in an exhibition matchup. Erin Vande Zande led the Titans with eight points.
The UW Oshkosh women's basketball team lost 79-51 in an exhibition matchup against NCAA Division I University of Wisconsin on Sunday at the Kohl Center in Madison.
The Badgers secured a 12-0 run early in the first quarter until the Titans answered with nine straight points to advance the score 12-9.
Erin Vande Zande came off the bench to initiate the Titan run with a three-point play 6:35 into the first. UWO's Katie Ludwig then hit a 3-pointer on the next possession, allowing Leah Porath to cap out the 57-second, nine-point run with another UWO 3-pointer.
Porath spearheaded UWO's efforts with seven points, nine rebounds and two steals.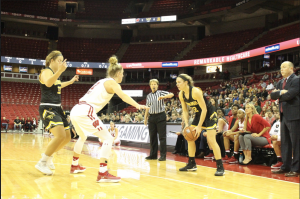 Titan head coach Brad Fischer said Porath's performance was a key representation of her tenacity out on the floor.
"For her to get nine boards at 5 foot 7 inch on the wing shows her toughness," Fischer said. "She's got a lot of technical things to get better at but effort isn't one of them."
UWO opened the second half down 42-22. The Titans then added 14 points in the third to bring the score within 24 heading into the final quarter of play.
The Badgers held their largest lead over the Titans 75-42 with 5:22 left in the fourth until UWO responded with their second and final scoring run to conclude the game, 79-51.
Senior guard Chloe Pustina said her team was pleased with the outcome considering the competition.
"We were pretty nervous coming into this," Pustina said. "We thought it might get out of hand pretty quick, but we were actually very surprised at the things we were able to do."
The Badgers owned advantages in rebounds (48-35), assists (19-7) and steals (11-6), while the Titans managed to pressure the Badgers into 20 turnovers and five blocks.
Fischer said despite the result of the matchup, the Titans deserve to be playing in games against high-caliber teams like Wisconsin.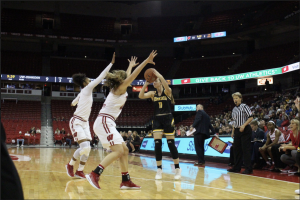 "The score doesn't indicate how well we feel like we were able to compete," Fischer said. "We have had a really good program that has won 20-plus games for six straight seasons, so we feel like we have earned the right to play in games like this."
UWO shot 29 percent from the field on 18 of 62 attempts while converting on 4 of 24 from beyond the arc.
Freshman point guard Brooklyn Bull, who posted seven points in the contest, said this experience proved just how competitive their team can really be.
"Something to take away from the game is that we can compete with anyone," Bull said. "Even though we did not win, I thought we kept up with them at certain points in the game. If we can make more of our shots that we took on Sunday, our team will be hard to defend and beat."