UWO visits Madison for preseason opener
The UW Oshkosh, men's basketball team lost a preseason game to the Division I Wisconsin Badgers, but UWO junior forward Adam Fravert led all scorers with 20 points in the 82-70 loss at the Kohl Center in Madison on Friday.
The Titans had four players in double-digits and limited the Badgers to 25 percent shooting from beyond the arc in the victory.
After trading the lead back and forth with the Badgers, the Titans tied the game up at 14 with 11:41 to play in the first half. From there on out, the Badgers did not relinquish the lead. The Titans kept within striking distance with the score at 22-18 in favor of the Badgers, but Wisconsin went on a 10-0 run to pull away from UWO.
The first half lead balloon up to 23 for the home team, but UWO was able to grind it down to 19 at the break.
Head coach Matt Lewis said having loved ones at the game made for a great atmosphere.
"It was a lot of fun," Lewis said. "It was a little bit of an L.A. Dodger crowd. [The fans] showed up midway through the first half but once they were there it was a really cool atmosphere. It was fun because a lot of our family and friends were in attendance."
Wisconsin senior Ethan Happ, who garnered a preseason first team All-American selection this year, was held relatively quiet by his standards. The 6-foot-10-inch Milan, Illinois native, was held to just 13 points and five rebounds while dishing out four assists.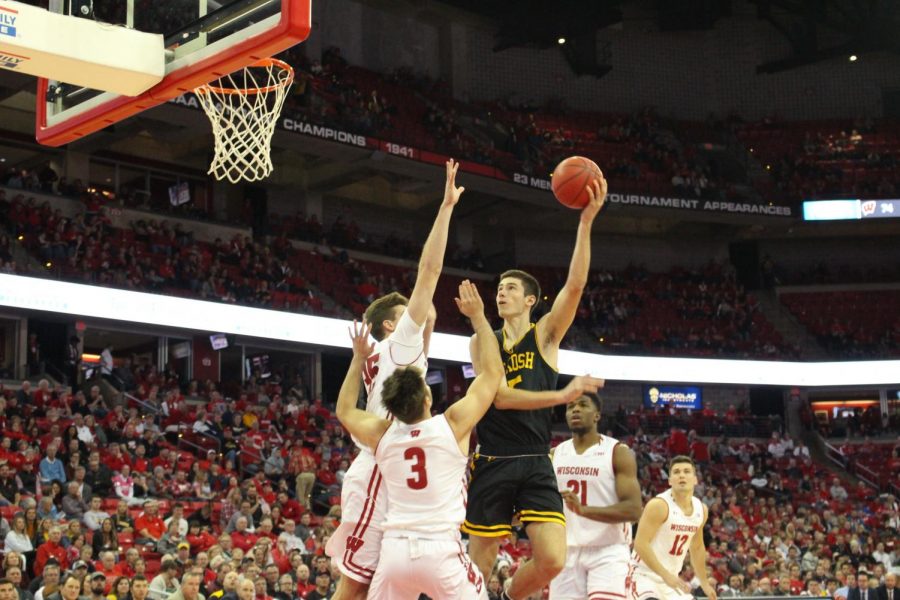 Fravert talked about the challenge Happ brought to the Oshkosh defense.
"He's fast," Fravert said. "He wasn't much taller than me but he's just quick and really smart with the basketball. His post moves are really good."
Over the course of the second half, the Wisconsin lead got as high as 27 and stayed above 20 for much of the half. As the clock wound down, Oshkosh showed their fight as they whittled the lead down to just 12 by the end of the game.
Other Titans in double-figures were seniors Brett Wittchow with 12 points on 1-6 shooting from beyond the 3-point line and Ben Boots with 10 points. Brad Davison led the Badgers with 16 points shooting 7-8 from the free-throw line.
Junior guard David Vlotho scored a career-high 17 points in the victory and said the experience as a whole was amazing.
"It was awesome," Vlotho said. "This was actually the first time I had got down there to play on the court and it was just really cool."
Vlotho hit on seven of his 11 shot attempts including a 3-7 clip from 3-point land. Vlotho also reeled in seven rebounds including two on the offensive end in only 25 minutes of play.
Vlotho's performance warranted praise from his head coach after the game.
"Dave is great," Lewis said. "He grey-shirted. Now he's in his third year of playing with us and his fourth year in school. He's really worked for everything that he's gotten. So we're excited for Dave to have that experience on Friday and play that well."
Lewis said although UWO graduate Charlie Noone can't be replaced, Vlotho did a great job filling into that spot-up shooter role that Noone played last season.
"It's really hard to replace what Charlie brought to us," Lewis said. "His leadership, maturity and confidence in what we were doing. Dave has given himself a chance. It'll be a myriad of guys probably. We're not at the point where we can say, 'Alright, you're replacing Charlie Noone.'"
Lewis said he was proud of the way his team battled back despite being down by 27 at one point.
"I think a lot of teams would have bagged it," Lewis said. "They would have been done with it midway through the second half. Our guys got in the huddle, they looked at each other and they said, 'No we're gonna keep playing.'"
Lewis said the game against a tough D-I opponent helps the character of his team going forward.
"I think that speaks volumes to who they are," Lewis said. "We had it several times last year in the national tournament where we were down six, eight points later in the game and we battled back. I think that is good preparation for what we're going to face again this year."
The Titans will open up regular-season play against Piedmont College (Ga.) on Nov. 16 as part of the Lee Pfund Classic in Wheaton, Illinois.
About the Contributors
Neal Hogden, Managing Editor
The College of Letters and Science at UW Oshkosh is proposing to increase teaching loads in 2019-20 in an effort to overcome a $1 million budget shortfall.

Under...