Women's basketball defeats Loras College in home-season opener
UW Oshkosh women's basketball came out strong with a 83-75 victory over Loras College during the season opener on Nov. 11.
The Titans have won nine consecutive season openers.
Scoring the first three possessions of the game, the Titans were on fire from the start.
Senior forward Isabella Samuels went 7-for-8 from the field scoring 15 points, making her the leading scorer for UWO.
Among Samuels, senior forward Melanie Schneider tallied 12 points with nine rebounds and five assists.
"I definitely think Friday night's win was achieved by working together as a team and everyone doing their part," Schneider said.
Friday's game was without a doubt a team effort, with four players scoring double-digits and 31 points coming off of the bench.
The Titans maintained a double-digit lead for all but six minutes of the game.
The Duhawks continued to play tough the entire game, hitting six out of seven 3-point attempts during the fourth quarter, outscoring the Titans 29-19 in this period.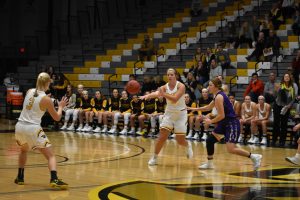 "We spent a lot of time practicing their defense during practice," Schneider said. "Loras is a good, aggressive team, so we knew it would be challenging at times. We overcame the pressure by staying composed and trusting in each other to be in the right spot and to take care of the ball."
The Titans averaged 11 turnovers per game last season, making them No. 1 in the country. With 16 turnovers against Loras, coach Brad Fischer said that carefully watching play film and paying attention to which plays worked the best is crucial to making sure that the turnover rate decreases before the next game.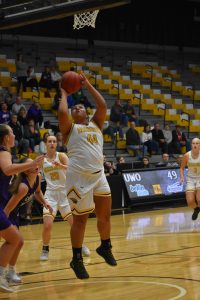 The Titans prepare for both The College of St. Scholastica and Ripon College. Fischer said he feels like there is an advantage going into Friday's game, as Scholastica has not had a game yet this season.
"There are a lot of new girls playing for Scholastica," Fischer said. "With new players comes nerves, and also figuring out their kinks."
The Titans will play The College of St. Scholastica (Minn.) on Nov. 16 and Ripon College on Nov. 17 at UW-Eau Claire's Zorn Arena.