Last year's success predicated on culture of hustle, toughness
The UW Oshkosh men's basketball team cruised through the NCAA Division III men's basketball tournament last year all the way to the National Championship game due in large part to a culture that preaches hustle and toughness.
After a last-place finish in the Wisconsin Intercollegiate Athletic Conference standings just seven years ago, the Titans have managed to gradually improve under former head coach Pat Juckem and then assistant, now head coach, Matt Lewis.
It's easy to attribute the quick turnaround to Lewis and Juckem recruiting better talent which has, in turn, escalated the team's play. Numbers can help explain the success just as well as the intangibles that a coach or player may bring to the game of basketball.
One trend that has been constant in defining the success of the team has been its ability to out-rebound opponents. Last season, the Titans owned an 8.4 rebounding advantage against their opponents. Compare that to longtime head coach Ted Van Dellen's last season (2012), when UWO was at a one-rebound disadvantage to opponents which resulted in a season where they went 4-21.
Junior center Jack Flynn led the WIAC in offensive rebounding with 123 offensive boards. The next closest player to Flynn had 57. Flynn said rebounding is something the team works hard on and needs to work at every game.
"Rebounding is a huge pride thing for us," Flynn said. "It just means we need to get physical, be a physical team in every game and bringing it to them in every game we play."
Junior forward Adam Fravert led the WIAC with 207 defensive rebounds last season. The next closest to him was UW-River Falls forward Brennan Witt with 145 boards.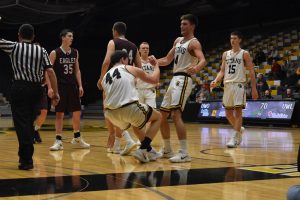 As with any great team, the ability to hit an open 3-pointer is an essential part of the game.
The Titans went 20-1 last year when shooting a better 3-point percentage than their opponent while going 5-7 when they shot worse than their opponent from beyond the arc.
Lewis said shooting from 3-point range has become the most important shot in the game so teams must find players that can shoot the ball.
"You need as many shooters as you can get," Lewis said. "The best shots in basketball right now are open, in-rhythm threes, stuff right at the rim or the free throw-line."
Lewis said teams without a 3-point threat are vulnerable to facing a defense that will pack the lane, forcing the ball to the outside.
"You need guys that can shoot the basketball otherwise teams just pack it in and it's really tough to get anything at the rim," Lewis said. "You need guys who can space the floor."
Moving the ball was also a major point of emphasis for the Titans last season as they led the WIAC in assists per game with 14.3. This comes as a product of spacing the floor with shooters surrounding Flynn in the post.
Senior Ben Boots said the team not only moves the ball well, but also has the talent to make plays for teammates and that's what leads to its high assist numbers.
"We've always had a focus on being unselfish, moving the ball and working for great shots," Boots said. "Sometimes it's just players as well. We've had some really talented players in the program last year. I think it's a combination of what we focus on on offense and also sometimes just some guys making great plays and teammates finishing off those plays, paying off those assists."
UWO sophomore forward Connor Duax said the team's chemistry fueled its ability to rack up assists last season.
"That's a product of unselfishness basically," Duax said. "We all know each other's ability so we all work to achieve each other's best potential. That works through sharing the ball effectively with our teammates."
Lewis said the team's goal in any game is to make more free throws than its opponent attempts. When that was the case last year, the Titans recorded a 14-0 record while making an average of 17.8 free throws in those games.
Flynn said getting fouled and shooting foul shots is effective because his guards are able to set him up for opportunities under the basket.
"I think it was just a product of being able to get a good seal and then my guards being able to find me and get a great pass to me and finding me a way to get a good angle to score," Flynn said.
Role players are also an essential part of the UWO rebounding formula. Duax, who averaged 2.8 rebounds in only 11.1 minutes per game last season, was relied upon to bring energy off the bench in his freshman season.
Duax said now that he's in his second year of college basketball, he is more focused on coming into games and shooting as well as bringing energy to the team.
"I'm looking to keep the same role but also expand by creating extra shots for myself and my teammates while continuing to bring the energy off the bench," Duax said.
With all five starters averaging double digits last season, UWO will look to replace their now-graduated starter Charlie Noone. Junior David Vlotho is slated to take over as the starting shooting guard this season. Vlotho excelled in his first start this season as he put up a career-high 17 points against the Wisconsin Badgers in an exhibition game on Nov. 2.
Boots was one of the major factors in the team's deep run in the NCAA tournament last year. The Kimberly native averaged 19.7 points per game while posting 36 points on Augustana College in front of a packed house at Augustana's Roy J. Carver Center in a 95-88 overtime victory to get to the Final Four.
Boots shot 44 percent from the field while hitting on 39 percent of his outside shots and collecting 3.6 rebounds per game. He also shot 86 percent from the free throw line and dished out 4.4 assists per game. Boots also led the Titans in minutes played with 32.3.
Boots said he has worked tirelessly to become the shooter he is today whether in practice or in the offseason.
"In practice, outside of practice, in the summer, being a good shooter is a constant commitment," Boots said. "It's a 12-month-a-year type of commitment. It's definitely something I take pride in and it's something that our team takes a lot of pride in."
About the Contributors
Neal Hogden, Managing Editor
The College of Letters and Science at UW Oshkosh is proposing to increase teaching loads in 2019-20 in an effort to overcome a $1 million budget shortfall.

Under...