Sweet, sweet victory
Last second shot by Nikki Arneson advances Titans to play in the Sweet 16 against Wartburg College on Friday
The UW Oshkosh women's basketball team advance to the third round of the NCAA Division III Championship after defeating Pomona-Pitzer Colleges (Calif.) 72-46 in the first round and DePauw University (Ind.) 54-52 in the second round on Saturday.
UWO fended off a fourth-quarter comeback from DePauw University with a last-second shot by sophomore guard Nikki Arneson with 1.3 seconds to play on Saturday at home.
The Titans led the Tigers by three points, 28-25, heading into the third quarter before UWO made a 11-2 run to extend their lead by 10.
DePauw University rallied together in the final quarter and tied the game up for the first time at 52-52 with 10 seconds left to play.
UWO spent their final possession trying to find an open player before Arneson drove the ball in for a running shot in the lane to reclaim the Titans' two-point lead.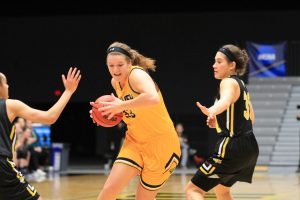 Tiger forward Claire Keefe's attempt at a last-second basket to tie the game fell short, yielding a Titan victory and a go ahead into the NCAA's D-III Championship Sweet Sixteen bracket. This is the Titans' second time advancing to the Sweet Sixteen in three years.
Head coach Brad Fischer said the Titans' battle with the Tigers was one in which every possession mattered.
"There was a lot of trade blows, and a four- or five-point run was considered a huge run tonight," Fischer said. "It felt like we had to scratch and claw for every basket. It felt like there was momentum after each point was made. For a second-round game, it was war."
Arneson, who recorded nine points and three rebounds in Friday's matchup, said her go-ahead bucket was somewhat of a blind shot.
"I saw the clock running down and just threw up a shot. I honestly didn't think it was going in," Arneson said. "The credit goes to DePauw for taking away our initial option. Coach drew up a really good play, and it wasn't actually even for me."
Sophomore guard Leah Porath led the Titans in scoring off the bench with 12 points on six of eight from the field. Porath also had three rebounds and two assists to captain the Titan bench, which accounted for 20 points and 13 rebounds.
En route to her fifth double-digit scoring effort of the season, junior guard Olivia Campbell posted 11 points and a game-high of five assists and four rebounds for the Titans.
Campbell held DePauw's season-leading scorer Sydney Kopp to just eight points on three of 11 from the floor. Kopp averages nearly 15.8 points per game on the season.
Fischer said Campbell is a huge part of why UWO has been so successful this season.
"We think we have one of the best defenders in the country in Olivia Campbell," Fischer said. "We have a ton of confidence that no matter who we play or what they score, Olivia will figure it out and shut them down. She made Kopp work for everything. Olivia is our motor out on the floor. She left the game for a minute and a half, and her kid hit a three and that was the last time I could take her off the floor until she got hurt with a second left to play. "
Campbell went down in the closing second of play with an injury to her ankle but will return to lead the Titans' backcourt defense in UWO's next game, according to Fischer.
Despite holding Kopp to a rare single-digit scoring performance, Keefe managed a double-double with a game-high of 18 points and 11 rebounds while Tiger guard Maya Howard had 12 points and a game-high three blocks in all 40 minutes of play.
Fischer said UWO, which shot 15.4 percent from the 3-point arc and 25 percent at the charity strip, has kept their primary focus on defense this season.
"[Defense] is what we do," Fischer said. "It's obviously not the most glamorous thing to convince these guys to defend. I think everyone would much rather shoot. But the special part of this team, and the reason why this team wasn't considered a threat in our league and now is on its way to the Sweet Sixteen, is that these guys just buy in to whatever we ask for. Defense is how we win games. We can afford to go two-for-13 from the the three and two-of-eight from the free throw line. We can have nights like that if we defend."
Titan senior Isabella Samuels has carried her league-leading field goal percentage into the postseason, recording back-to-back games of missing only one field goal attempt per contest.
At the center position, Samuels said her ability to convert in the paint just comes down to confidence.
"I don't even really think about it if I'm being honest," Samuels said. "It's just a mindset of I'm going to get this basket."
Samuels has led the Titans in the NCAA tournament, accumulating 30 points on 16 of 18 from the field between the first and second round.
Samuels led the night with 22 points as UWO dominated their first-round tournament opener against Pomona-Pitzer Colleges on Friday at home.
UWO outscored the Sagehens in every quarter but the first and held Pomona-Pitzer Colleges to a season-low scoring performance of four points in the second quarter.
UWO held a mere five-point lead, 28-23, heading into the third quarter before posting 44 points in the second half to Pomona-Pitzer College's 23.
Samuels recorded double-digits 6:09 into the first as she owned 10 of UWO's first 15 points of the game en route to her second-highest scoring performance of her career.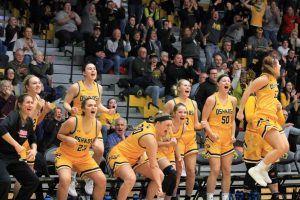 In 20 minutes of action, Samuels missed just one field goal on 12 attempts while gathering four rebounds and an assist.
Senior forward Melanie Schneider posted her 20th double-digit scoring effort of the season with 11 points, five rebounds and three assists.
Porath led the Titan bench, which totaled 24 points and 16 rebounds, with 10 points and five rebounds while Campbell rallied a team-leading six rebounds and five assists.
UWO held Pomona-Pitzer to just one double-digit performance in freshman guard Carly Leong. Leong had 15 points on four of 16 from the floor and three of 11 from beyond the 3-point arc.
The Titans, who are ranked 13th in the nation by d3hoops.com, will face off against 11th-ranked Wartburg College (Iowa) in the third round of the NCAA D-III Championship on Friday at the University of St. Thomas in St. Paul, Minn.
UWO ranks eighth in the nation in scoring defense, allowing an average of 48.3 points per game while Wartburg College ranks 15th in scoring offense, averaging 77.1 points per game.
Wartburg College has won its past three meetings with UWO, including a 66-56 victory in the most recent matchup during the second round of the 2016 NCAA D-III Championship.
If the Titans win, they will remain in St. Paul to play either the University of St. Thomas or Amherst College (Mass.) on Saturday at 7 p.m.