Young Titan core shows upside for 2019 season
The UW Oshkosh football team narrowly defeated Carthage College on Saturday, going home with a 20-19 victory to kick off the 2019 season.
Two out of Carthage's three touchdowns came from blocked kick returns, and UW Oshkosh ended up turning the ball over twice on punt returns as well.
Once Carthage returned their last blocked kick into a touchdown score, they decided to go for the win in attempting a two-point conversion but failed. These mistakes could easily turn into a loss, but the Titans' defensive play helped anchor the team to a win.
Head coach Pat Cerroni said his team struggled with certain aspects of the game, but that's to be expected in the team's first game of the season.
"You say thank God we won and move on," Cerroni said. "It's our first game; we made mistakes and now we will correct them… Give Carthage credit, they did a good job exposing us."
Last year, the Titans finished with an overall record of 6-4, their worst season in the last half-decade.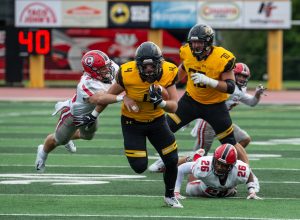 Although many players had graduated, Cerroni expressed excitement in this season's young core.
"We had graduated a ton of exceptional talent, and right now, we are just trying to piece it all back together," Cerroni said. "We have a good nucleus of guys this coming year, which makes us really excited to see what's going to happen."
Cerroni decided to mix in a two-quarterback rotation as freshman Kobe Berghammer led the Titan offense in both passing and rushing yards.
Berghammer finished the game passing eight for 18 with 138 yards and two touchdowns. He also kept the Red Men defense guessing by running for 67 yards on seven attempts including a 27-yard run where he broke two tackles.
Cerroni provided little insight about which of his quarterbacks would start next week.
"Every week you evaluate and see where you are at. [Berghammer] did a great job and there is nothing you can say about it; he did awesome."
Not only was the offensive potential on display, but the defense recorded seven sacks, making sure Carthage quarterback Colton Klein was uncomfortable the entire game.
Cerroni said football is a simple game and there are three aspects that the team needs to do well in order to be successful.
"The culture we have is to play great defense, do well on special teams and score a lot of points."
The Titans will travel to Salisbury University in Salisbury, Maryland for a non conference game against the Sea Gulls.