Soccer team closes fall season strong in playoffs
The UW Oshkosh women's soccer team lost on penalty kicks to Wheaton College (Illinois) in snowy conditions last Friday in the first round of the National Collegiate Athletic Association (NCAA) Division III tournament in Chicago.
The Titans opened the scoring in the ninth minute when Rylie Kaufmann, who was dribbling on the right wing, launched a shot from 19 yards out that found its way into the back of the net, giving UWO an early 1-0 lead. The game would remain 1-0 until the 72 minute, when the Titans would strike again. Mackenzie Stein found Alyssa Gunderson who buried the ball into the back of the net for her fourth goal of the season, putting the Titans up 2-0.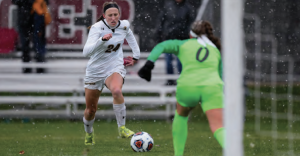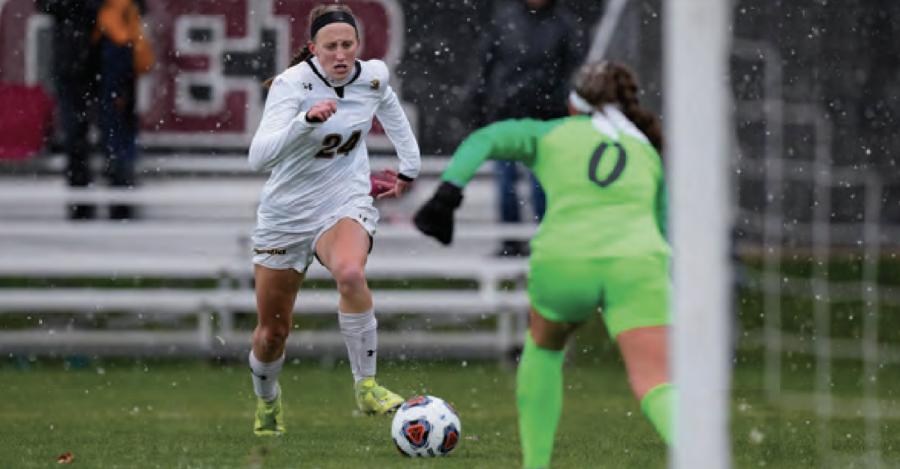 At the 76 minute mark, Wheaton started their comeback. The Thunder would pull to within one after Oshkosh failed to secure the ball in front of their own goal and it ended up in the back of the net for an own goal. Wheaton would tie the game in the 84 minute after Audrey Sexson found a wide-open Zoe Lipke who scored her first goal of the year to put the game at 2-2. The game would remain tied until the end of regulation time.
In two overtime periods, UWO outshot Wheaton 6-4, but the score remained tied going into penalty kicks. Wheaton started the penalty shootout with a successful penalty kick from Izzy McNally. Oshkosh leveled the shootout with a successful penalty kick from Rylie Kaufmann. This would be the last successful penalty kick in the shootout for the Titans as Molly Jackson, Mackenzie Bennett, Hailey Dehnert and Quinlan Thompson all failed to convert from the spot. Tori Seeland would miss in the second Wheaton attempt, but Zoe Lipke would convert what would be the winning penalty kick for the Thunder, who won the penalty shootout 2-1.
"Our season was phenomenal," forward Kaufmann said. "I can't believe how much history this team made this season. The team's chemistry was amazing this year on and off the field. I am extremely proud of everyone working their hardest to get where we wanted. Unfortunately, our game did not end the way we wanted it to. We were all very sad and frustrated about the game because we knew we should have won. But as a team we are looking forward to the next season and continuing on what we started this year!"
The penalty shootout was the Titan's third in the last six matches they have played in the NCAA Division III tournament. Wheaton has an 8-0-1 all time record against the Titans and met the University of Chicago in the second round of the NCAA Division III tournament on Nov. 13, where they lost 2-0.
Titan forward Piper Green said it was the "most fun season" she's ever played in.
"We made history multiple times and it was incredible," Green said. "I think one of the best parts was the fans. We had so many fans at each game, more than we've ever had. We all worked together so well, and our hard work paid off. It was not the result we wanted at the NCAA tournament, but there's so much to be proud of."