Gymnastics team soars to new heights
The UW Oshkosh gymnastics team dominated Hamline University of Saint Paul, Minnesota, scoring 188.825 points to Hamline's 181.2, moving the Titans to a third place ranking among Division III schools, according to RoadToNationals.com
The Titans swept the top five positions on the uneven bars, registering a team score of 47.625.
Senior Baylee Tkaczuk won the uneven bars with a score of 9.625, freshman Trinity Sawyer and sophomore Rahdea Jarvis split second place both scoring 9.60, sophomore Emily Gilot finished fourth with a score of 9.45, and senior Jessica Bernardo finished fifth with a score of 9.35.
After finishing second on uneven bars, Jarvis has come a long way from where she started the season.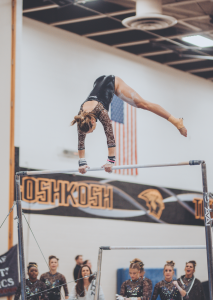 "For me personally, bars has been an uphill battle this season, but I think that after this week I finally feel confident in myself," Jarvis said. "My confidence in my teammates has never wavered especially because they have been there to pick up my slack in the past couple of weeks."
In addition to the Titan's stellar performance on the uneven bars, UWO swept the top four positions on the vault event.
Gilot won the event with a score of 9.55, freshman Haley Volstad finished second with a score of 9.425, Sawyer placed third with a score of 9.375 and Jarvis finished fourth with a score of 9.35.
According to Gilot, the team's hard work in practice has led to consistent performances on vault this season.
"We work so hard in practice perfecting the little things because the vault itself has become pretty easy for us," Gilot said. "This year, I personally see more confidence in each girl in the line up. Competing on vault is just another opportunity for us to continue to become more confident and excel as a team."
Following the UWO gymnastics team impressive victory on vault, the UWO gymnastics team had four finishers in the top five on balance beam.
Sophomore Kaira Hammond finished second on balance beam with a score of 9.475, Tkaczuk placed third with a score of 9.425 and sophomore Olivia Keller and junior Paige Mayhew split fourth place, both scoring 9.375.
Keller also won the individual title in the floor exercise, scoring a season high 9.65.
The UWO gymnastics team will take on 15th ranked UW-Eau Claire in Eau Claire on Feb. 21.
Gilot remains confident that if the team continues to work hard and improve each week, they will come away from Eau Claire victorious.
"Going into Eau Claire, I think it's important that we don't strive for perfection," Gilot said. "Instead, we remember our corrections, fix the small details and watch how it all plays out. If we go out there and do what we have been doing all season, I think the outcome will portray our hard work."