Mission IMPROVable stuns campus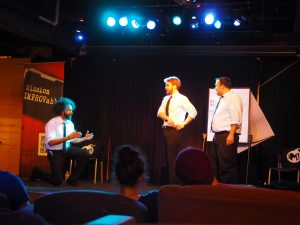 Reeve Union Board hosted Chicago-based comedy act, Mission IMPROVable, on March 5 in Titan Underground to entertain students in a unique way.
The show resembled "Whose Line is it Anyway?" and the MTV series "Wild 'N Out" but had a secret agent theme. Four agents hosted Mission IMPROVable: Agents Trail Mix, Pepper Jack, Sugar Bear and Aerospace.
RUB Concert and Comedy Chairwoman Jessy Fedie said they found Mission IMPROVable at the National Association of Campus Activities. NACA is a conference held both regionally and nationally in which colleges send people from programming boards to attend seminars.
"They learn how to market events to their campuses," Fedie said. "They get to watch a bunch of different showcases. They see a bunch of artists, comedians, hypnotists."
Matt Garard, or Agent Sugar Bear, said each agent picks his name and the name has something to do with that particular agent.
"I'm Agent Sugar Bear, and that's because I'm really sweet, and I once mauled an elderly couple in a state park," Garard joked.
Each game was a new "mission" in which the agents asked for words or phrases from the audience to incorporate into the show.
In a mission entitled Movie Producer, the agents used random audience members' initials to create movie titles. The agent with the best title was chosen to provide a brief film synopsis, and then the agents would act out a scene.
During the Mission Improv Square, sophomore Melissa Yarrington got up on stage and joined in the fun.
"At first I was scared to participate because I didn't know what to say," Yarrington said.
Two agents and two students formed a square on stage, and each different pair had its own theme. The four pairs were a dog and its owner, two people in a hot tub, superheroes Liceman and Catman and the phrase "I wanna spoon with a lion."
Whichever pair was in front of the square acted out its theme. Once the agent in charge clapped, the square would rotate in the chosen direction and the new pair's theme would begin.
Despite a nervous start, Yarrington said she enjoyed being up on stage.
"My friend, who is part of the RUB [group], she kept on bugging me to come," Yarrington said. "I'm happy I did."
The agents also attempted to generate the worst pick-up lines using the phrase "I like my women/men like I like my…" They asked for specific items to complete the phrase, and some crowd responses were couches, pancakes and Playstation.
One agent, Agent Aerospace, was to leave the room while the audience generated three situations. Once he returned, two other agents would need to act out the scenario for Agent Aerospace to guess.
But one thing made this mission seem nearly impossible. The only clues Agent Aerospace had to work with were pantomime and gibberish.
After a lot creative gesturing from the two agents, Agent Aerospace was able to guess all three crowd-generated scenarios.
Freshman Katherine Vopal came to the event because she wanted to check out Mission IMPROVable and said she enjoyed how interactive the group was.
"I liked how they got the crowd involved with it," Vopal said.
Vopal said the final mission was her favorite to watch, and she was very impressed with Agent Aerospace's guessing ability.
Agent Pepper Jack, aka Sherman Edwards, was a theater major in college and said he enjoys doing plays.
"But it was when I did the funny role, that's when I noticed, 'Oh, I can get the instantaneous response of people laughing,'" Edwards said.
He said drama wasn't the same because with the serious acting, the audience was generally quiet.
"But if you're funny and people are laughing, you know you're doing it right," Edwards said. "So that's pretty infectious."
Mike Keeney, or Agent Trail Mix, said he began doing improv when he was in high school, following in his brother's footsteps, and continued through college.
"I never really chose it," Keeney said. "It was just a thing that I did that I was lucky enough to continue."
According to Keeney, the company Mission IMPROVable has been around for about 15 years and continues to grow. The group met during their auditions.
"We all came on one at a time basically," Keeney said. "And as people have gotten older and stepped off tour, other people have auditioned and gotten on."
Mission IMPROVable tours around the country and performs at a number of different venues for a varying amount of people.
Edwards said the school year is a busy time for them, and they visit a lot of colleges. He said he likes performing for people outside of Chicago who aren't comedians.
"It's really fun because they haven't seen it and we haven't performed in front of them," Edwards said. "So, getting to do that is really nice. You get to feel the audience's vibe a little more."
Keeney said he likes to perform on college campuses because the space is more intimate.
Garard said he enjoys utilizing the audience to generate their material.
"The crowd makes the show," Garard said. "We build everything from stuff that they throw at us. It really is their show every time."
For those interested, Mission IMPROVable has podcasts available on iTunes.