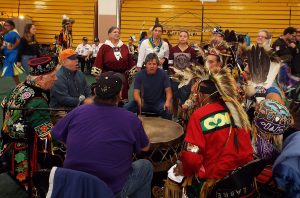 Students had the opportunity to experience Native American culture when the UW Oshkosh Inter-Tribal Student Organization held their seventh annual Pow Wow on Saturday.
ITSO is an organization whose objective is to act as an advocate for the Indigenous Studies Program at the University as well as to address any concerns or issues for Native American students on campus.
The Pow Wow at UW Oshkosh was one of three happening on Saturday, with one being at UW-Green Bay and the other at UW-Eau Claire.
ITSO President and junior Leo Spanuello said the purpose of the Pow Wow is a blending of cultures.
"The whole idea is the gathering of people," Spanuello said. "We want to bring Native American traditions into campus and have non-native people experience it because it's nothing like they have ever seen before."
American Indian Student Services Coordinator Dennis Zack said they start preparing for next year's Po Wow the day after the previous one ends.
"There's a lot that goes into planning the event," Zack said. "You know from getting the drumming groups … and getting the emcee who basically is the one you are hearing in Albee … the arena director … it's a controlled chaos."
The Pow Wow was an all-day event featuring vendors from across the Midwest selling handmade Native American crafts, dance competitions for adults and their children and drum circles led by Smokeytown, Medicine Bear singers and Woodland Thunder.
The highlights of the Pow Wow were two ceremonial grand entries which were scheduled for 1 p.m. and 7 p.m., where every dancer comes out and performs an honor song and a veterans song, led by Veterans of the Menominee Nation.
Freshman and ITSO member Rachel Novak said the organization relied on Snapchat for a new and creative way to promote the event.
"[The filters] are not just in the building," Novak said. "It's in the library, the student union and a couple other places. It reminds students to come here."
In addition to Snapchat, students and community members attending the event were able to download the free app Guidebook to access more information about the Pow Wow, including dancer and drummer biographies.
Vice president of ITSO and sophomore Nick Metoxen said the aim of the Pow Wow was for Native American students to be part of the campus community.
"We really look to have Native students feel comfortable here," Metoxen said. "The Pow Wow [and other events] hopefully can do that over time."
Freshman Dan Paulson said he came to the event to experience Native American culture.
"I'm excited to see the music," Paulson said. "It's a different style. It's something that we aren't used to."
Freshman Tyler Kohlbeck said the Pow Wow was unlike any event on campus he has been to before.
"It's an eye-opener," Kohlbeck said. "It's new to some people, including me. It helps you see the diversity of the campus."
In his introduction, emcee Elliot Funmaker said he commends the ITSO for their work in making this event possible.
"The student organization did a fantastic job setting up and making people feel at home," Funmaker said.
Women and gender studies professor Dr. Liz Cannon said she comes to the Pow Wow every year for a better understanding of Native American traditions.
"I think experiencing other cultures is a way we connect as humans," Cannon said. "Many people have no connections with Native Americans and rely on stereotypes. They need to be broken, and this event is fun."
Zack said students that attended the Pow Wow can expand their mind to understand different cultures.
"That's the biggest thing, when you understand someone else and knock down those barriers and misconceptions," Zack said. "You have to be careful making those judgments and assumptions. The biggest thing we want people to understand is that even though American Indians are the lowest percentage of minorities in America, they are there."