Miss UWO pageant benefits Christine Ann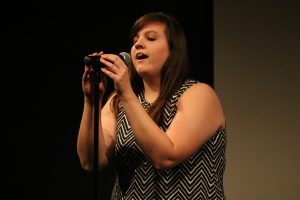 Senior Raven Wilson won the third annual Miss UWO pageant hosted by the Beta Theta Pi fraternity on Thursday evening in the Reeve Union Ballroom.
The fraternity started the event in 2011 as a way to raise awareness for issues affecting the Oshkosh and Fox Valley community.
This year, all the proceeds from the philanthropic event benefitted the Christine Ann Domestic Abuse Center, a nonprofit organization serving individuals and families in Winnebago and Green Lake County struggling with the effects of domestic violence.
Wilson said the best part about participating in the pageant was the cause it supported.
"Domestic violence awareness is something I am very passionate about, and being able to communicate my knowledge to the campus community helped me live up to my values by educating others in domestic violence," Wilson said.
Wilson said she was humbled to know how many strong men and women there are on this campus who are passionate about bringing awareness to domestic violence.
The event began with catered food from Erbert & Gerbert's as well as Insomnia Cookies and a prize raffle students could enter.
Before the pageant started, an advocate from the Christine Ann Center was on hand to speak about domestic violence.
UW Oshkosh student and member of the fraternity, Donnie Bantle said the fraternity has volunteered and raised money for the organization in the past but wanted to make a bigger mark on the community this time around.
"We thought of the idea because Alpha Xi Delta has an event in the spring called Mr. UWO that benefits Autism Speaks," Bantle said.
Besides Wilson, the six contestants were Morgaine Prather, Jamie Mikrut, Genevieve Jewson, Iondu Vaijayanthi, Shauna Clemens and runner-up Emily Brooke.
The pageant's contestants participated in a spirit and talent competition as well as a formal Q&A session.
When their name was called, each woman got on stage and spoke about their love for UWO, their involvement in on-campus activities and what they wanted to do in the future.
After introducing themselves, the women had the opportunity to showcase a talent of their choosing.
Some of the talents included playing various instruments, rapping and singing; Wilson sang a cover of "Chasing Pavements" by Adele.
Junior Katie Becker said she came to support her fellow sisters in Greek Life and for the positive message the pageant presents.
"I decided to come because it's an empowering event for women and it's a great cause," Becker said.
Bantle said he attended because it's important to spread awareness about domestic abuse.
"Others should attend the event because it will give them resources and advice on what to do when them or someone they know is in an unhealthy relationship," Bantle said.
Beta Theta Pi faculty advisor Debbie Gray Patton said the pageant is less about winning and more about the cause it supports.
"The [pageant] is designed to raise awareness of the talented women we have on campus and to raise money for Christine Ann," Patton said.
Junior Jackie Lemerond said students who enjoyed the pageant should look into joining a sorority or fraternity.
"I think students should attend to see what Greek Life and other organizations on our campus do and hopefully will make them want to get involved and take on positions that will not only help them, [but] others as well," Lemerond said.
Along with the pride contestants felt in their participation, Bantle also expressed pride in raising money and awareness for domestic abuse.
"The most important thing that people should get out of the event is that it can happen to anyone and if it does happen … it is not your fault and that there is help," Bantle said.
Wilson said winning the pageant speaks to who she is as a person, someone who is passionate about educating others about domestic violence.
"I have won other awards in my undergraduate career, but this win truly resonates with the goals I hope to accomplish in my life and the values I hold with me in my everyday life," Wilson said.