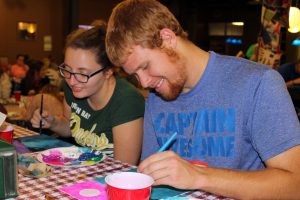 The guided paint class, was popular amongst students as they filled the Titan Underground last Thursday, Nov. 10.
While RUB hosts numerous craft events throughout the semester including a Disney-themed event back in September and a pottery night earlier this month, this is the first year RUB has planned a painting class for students.
Senior and RUB board member Samantha Law Gotich said events like this are designed to entertain students while keeping in mind most of who are on a tight budget.
"We brainstormed ideas we could do for campus that would be fun, but would also be free and students wouldn't have to pay for it," Law-Gotich said.
All the required materials needed, including paint, brushes and canvases, were provided to students at no cost.
When asked how they planned for the craft night, Law-Gotich said it was just about the kind of supplies they needed and estimating the number of students that would attend.
The class was guided by UWO art student Colleen Barnstable, who stood on stage with an easel and canvas and took the students through the painting process step by step.
Together, they were painting a tranquil scene of a sun setting on the water.
The students all painted the same scene, but were able to make it their own by switching up the paint colors, textures and adding details to their painting.
The paint class was well-attended, with students easily filling up all the tables in the Underground. Almost all the seats were taken a few minutes into the event.
Senior Brooke McCanna said she believes the event had high attendance because RUB promoted it well.
"I live off-campus so I am not really connected to activities, so I think that seeing it in the announcements as well as the TVs around campus is really what drew me in," McCanna said.
Students attended the class for various reasons. Some attended to better their painting skills and others took advantage of the class to get away from their studies and de-stress.
Freshman Bridget Sibilsky said she and her friends came to the painting class because of a game provided by University Studies Program instructors. The game that incorporates University activities and places as a way to welcome incoming students.
"We attended for a scavenger hunt," Sibilsky said. "We thought it would be interesting."
The attendees were also served complimentary mocktails on a first come, first serve basis.
With music, mocktails and guided instruction, the paint class was a relaxing time for all amid hectic schedules as the semester comes to an end.
Senior Dawn Eberhardt said she has always hoped RUB would host this event because it strays away from what is usually presented and it gives her a chance to practice her art skills.
"I wanted to go to a painting class before I even knew it was offered," Eberhard said. "It's fun and there is teaching, but there's also variation."
The next event hosted by RUB is magician/comedian Michael Kent on Nov. 30 in the Reeve Ballroom.