Baumann presents voice recital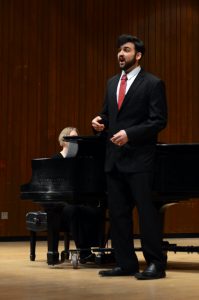 Senior Eli Baumann presented a voice recital on Monday, as a part of a continuing student recital series presented by the UW Oshkosh music department.
Baumann was accompanied by Kristin Ihde on the piano and performed three different sets, each with songs from a mix of different composers, including Mozart and Beethoven.
Baumann has been involved with music departments and programs for most of his educational career. He said he began singing in middle school, but only recently started performing professionally.
"I can't trace my performing back too far," Baumann said. "I sang in high school, mostly in choir, but I didn't really think much of it."
Baumann also said he is excited to perform with the Oshkosh symphony this weekend and hopes that will give him the chance to show off his vocal skills.
When Baumann started college, he said he wasn't sure what he wanted to major in, but he knew he wanted to include music in whatever he did.
"It was a choice I just made," Baumann said. "I didn't know what I wanted to do, and I was going to college, so I just decided this is what I'm going to be."
Eventually, Baumann chose to be an instrumental and general education major, blending his love for music and teaching.
Baumann said there wasn't one deciding factor in choosing to pursue music, but he has had good memories that drove him in that direction.
"There was no real super influence [to choose music]," Baumann said. "Nobody was pressuring me or pushing me, it was just something that I did for myself. I had a really good experience in the music program back in high school."
Voice professor Nathan Krueger, who Baumann has been studying under for four years, said he is an ambitious student.
"He has worked to refine his skills as an engaging performer and I think he demonstrated this well during his recital," Krueger said.
Director of Choral Activities Eric Barnum said Baumann is a student who strives and thrives in the music field as a vocalist and trumpet player.
"Both are challenging in their own ways and it requires determination to practice enough to develop expertise in both," Barnum said. "He has participated in numerous ensembles on campus in a professional manner, striving to be a valuable member of each."
Krueger said every singer, including Baumann, makes artistic decisions that contribute to the finished performance.
"We worked hard to make Eli's choices evident to the audience and I felt that Eli displayed a clear understanding of the text and communicated his musical goals clearly," Krueger said.
Barnum said Baumann is a representative to many for the hard working students currently present in the University's music department.
"Music is a challenging and often daunting career path and Eli has the resolve to move forward in this career with a single-mindedness," Barnum said.