Café hosts local performers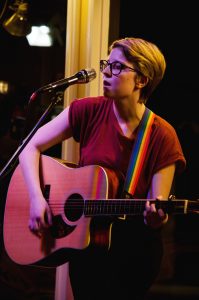 For freshman Sara McArthur, Open Mic Night at New Moon Café allows her to become more confident with performing songs in public.
McArthur first started performing at Open Mic Night in March of last year and she has performed almost every week since then.
McArthur started out her three-song set with an original song called "Smoke," then continued with covers of "Barren Sea" by Charley and the Cynics, and "I'll follow you into the dark" by Death Cab for Cutie.
In addition to McArthur there were some adults, as well as other students, who performed a mix of both original and cover songs with a range of genres.
Even though she has played open mic nights at other places like Annie's Fountain City Café, McArthur prefers New Moon Café because it's the first one she ever went to, leading her to be more dedicated to coming every week.
McArthur recommends any new and practicing musicians go to New Moon Café to perform at Open Mic Night.
"There are definitely a group of regulars that come here," McArthur said, "but if it's your first time, the people here are really supportive and encouraging… Even if you're shy or nervous, people will still come up to you after and be like 'hey, good job' and encourage you to come back and do it more."
McArthur also enjoys the positive environment, where people are always encouraging you, whether it's your first time or you're one of the regulars.
McArthur said she remembers going to New Moon Café and watching the performers when she was younger. She said seeing them on stage made her think she wanted to perform someday.
Although she plays guitar the most, she can also play some keyboard and a little bass. Guitar is what she focuses on most and she uses it to continue to grow as a musician and performer.
"I've been playing guitar for about seven years," McArthur said, "I started playing the violin in the fourth grade and I ended up switching to guitar because my dad played guitar and I would sit down in lessons with him and was like, 'I want to do this instead' and I haven't really looked back since."
She is constantly looking for ways to improve her skills, whether through fellow musician's advice or continued practice.
Check out McArthur and other community members perform at New Moon Café's Open Mic Night every Tuesday from 7-9 p.m.