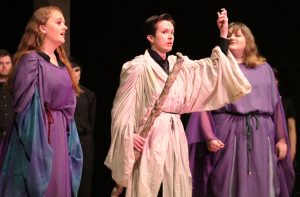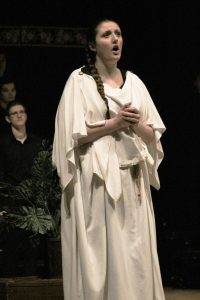 The UW Oshkosh Opera Theatre put on a production of "Dido & Aeneas" over this past weekend, which showcased a variety of student talent.
The show, which was conducted by Dr. Eric Barnum and directed by professor Nathan Krueger, tells the love story of Dido, a widowed queen, and Aeneas, a Trojan prince.
"Dido & Aeneas" featured both a full cast and an entire background chorus consisting of 33 members who sang more than the main cast. Performers were accompanied by the music of a faculty string quartet.
According to Krueger, theatre allows for students to learn to feel comfortable on stage while developing their own acting and singing techniques.
"My favorite part is working with the students, introducing them to the art form and seeing them grow through the process," Krueger said. "I think it can be daunting to students at first."
Krueger said many of those who took part in "Dido & Aeneas" had experience performing in musical theater productions and are studying classical techniques. This experience allowed for the performers to adapt to the process quickly.
"I try to encourage the students to bring their own ideas to their characters and work with them as a group to bring the music to life," Krueger said. "Each student comes to the process with a different amount of experience, but we have a talented group this semester, and they really worked hard to make this their own."
Fifth year vocal and general music education student Ryan Lindley played the role of Aeneas after he was asked by his voice professor to take on the character.
"The whole process of learning the opera, putting it together with your peers and then finally staging it is a blast," Lindley said. "[When I was asked to play the role,] I happily said yes."
Lindley said his favorite aspect of being a part of the opera is making great music with his peers for the audience to enjoy.
"Something that is new this year is that there is a faculty string quartet that accompanies us," Lindley said. "Typically we only have a piano accompanying us, and this year we have the string quartet and a harpsichord."
Third year music and theatre vocal performance and theatre performance major Matthew Beecher played the role of the sorcerer and said he was excited to show the campus the first English opera from the baroque era.
Beecher said his fascination with the genre of opera continued to grow after taking part in various productions on campus.
"My favorite part of being involved with this piece is the role I get to perform," Beecher said. "One of my favorite aspects of performing is role research, creating backstories that are subtly hinted and suggested at through performance and delivery. This character is no exception, and it is always fun to get to play the bad guy."
Junior vocal performance major Gail Goodacre played the role of Belinda, and said she got involved with the UWO theatre after having a passion for operas for many years.
"I want to pursue that type of music in the future," Goodacre said. "So when I learned that I could be a part of one I couldn't pass up the opportunity."
Goodacre said she is sad that people do not appreciate opera music the same way they did before.
"The popularity of this style of music is decreasing even though so much of it is truly extraordinary," Goodacre said. "I think it is so important for everyone to at least have some exposure to it."
Goodacre said through her experience with the UWO theatre she has developed a great support system and that the cast became incredibly close.
"This year seems like our biggest cast and creative crew yet," Beecher said. "It is truly electric and the energy is always high."
Lindley said working with other members of the opera is always a fun time and there's never a dull moment; but also the support system they have built is very apparent.
"We are never demeaning to each other, though we do hold each other accountable," Lindley said. "If someone is messing up or just not getting the vocals or movements down, we help them. We're a fabulous community."