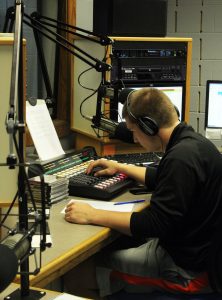 The University of Wisconsin Oshkosh celebrated the 51st anniversary of its radio station, WRST, this past week.
The station was started in 1964 by Dr. Robert Snyder, who also founded the radio/TV/film major soon after he arrived at Oshkosh.
Randall Davidson, UWO professor and WRST faculty adviser, talked about the history of the station and his own experience while being a part of WRST.
"Almost immediately after arriving at Oshkosh, [Snyder] applied to the FCC for a permit to build WRST," Davidson said. "The original station was in an old lumber company building on Blackhawk Ave. We were on the air four and a half hours a day, weekdays, only at 10 watts."
Over the past 51 years there have been many changes at WRST.
The station was moved to the Arts & Communication building in 1971, changed frequencies from 88.1 to 90.3 and increased power from 10 to 960 watts in 1973.
In 1982 the station went to 24/7 service, became affiliated with Wisconsin Public Radio in 1993 and introduced internet streaming in 2005.
Davidson said he first became affiliated with the station in 1986 when he was a student at UWO.
"My first jobs were news casting and producing the daily program logs," he said. "I eventually became the program director and, later, operations director."
Davidson became an RTF lecturer and took over for Ben Jarman in 2008 when Jarman retired.
"He'd been here since 1982 and had been my instructor," Davidson said. "I'm the sixth person to have this role since 1966."
In his time as adviser for the station, Davidson has done several things, including negotiating an earlier start time, expanding news and technology and adding new programs.
"Wisconsin Public Radio used to run until 3:00 p.m.," Davidson said. "Now student programming starts at 1:00 p.m. daily. We've really expanded our news offerings and have added new technology in the studios, new consoles and, for sports broadcasts, internet-based remote gear. We also added a weekly program in Spanish."
Davidson said even though it is a radio station, WRST is open to all students even if they aren't an RTF major.
"If you plan to go into a career other than media, having a semester in radio on the resume is an intriguing thing for many employers," Davidson said.
Senior Morgan Schultz, co-director of programs, started in 2014 as the Webmaster doing updates and cleanup for the website before becoming a director.
As programs co-director, Schultz said his duties include training students, figuring out what works best for each student and what has to be done differently each time.
"As programs director, the job means that we are responsible for all on-air content," Schultz said. "We understand several of the on-air shifts cycle in and out every semester, and our job is to effectively train the students on their shifts and make sure they understand the procedures."
Schultz said her favorite part of WRST is that everyone works so well together to make sure everything goes smoothly.
"We do our best to make sure that we are all on the same page with one another regarding the events and things going on at all the different positions," Schultz said.
"It's great to have that family community as a way to experience networking for the future."
Sophomore Nicholas Williams, current music director, started as a student DJ in 2015 running Saturday "After Party" shifts as well as Jazz shifts during his freshman year.
As music director, Williams works with radio promoters who send in clients' music.
Student DJs and assistant directors decide on what music is available for students to play at station.
"At the end of every week, I generate a chart of our most-played albums and report back to the promoters how their music is doing, using a service called the North American College and Community Chart," Williams said.
Williams said he appreciates the connection WRST has with Oshkosh and hopes to see it grow in the future.
"Today, WRST already has a strong connection to the Oshkosh community, but I hope in the coming years, we can get even more involved with the community," Williams said.
Current news director Taylor Ehrmann started out last year with three-minute newscasts and has various duties such as mentoring several students and doing her own weekly show.
"My role as news director requires me to maintain 10-12 students a semester, making sure they are doing their three-minute newscast and mentoring them in the world of news," Ehrmann said. "I do my own hour-long show every Friday, called 'Week in Review.'"
Ehrmann said she looks forward to seeing the station continue to improve and be an outlet for talented students.
"I hope for the station to keep getting better and keep reaching larger audiences," Ehrmann said. "There are so many talented people at this school, and I think everybody deserves to be heard."
Promotions director Nicholas Martin started in 2015 after a required class helped him realize he wanted to stick with radio.
"After finishing the class, I created a show for the next semester called the 'Local Block' where I featured musicians from around Wisconsin or with Wisconsin ties," Martin said. "I still host this show from 9:00 p.m. to midnight every Saturday."
Martin, having seen the success of the station, said he hopes to see the station continue to provide the students and community with information.
"In the future, I would like to see the station continue to perform at the highest quality," Martin said. "The students and community deserve a place where they can be informed on the latest in Titan sports and alternative music, and, in Oshkosh, WRST is that place."