First-time performers steal talent show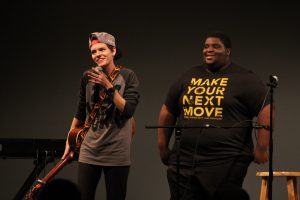 As the lights went dim at 8 p.m. on Tuesday, 23 UW Oshkosh students took the stage in the Reeve Ballroom at the Homecoming Talent Show.
UWO alumnus Aza Muzorewa opened the show with a few jokes and stories to get the crowd of 344 people warmed up for the night's performances.
Among the performers was first-time talent show performer Jarod Hoffarth, a junior who performed an original piano composition, "Waterfall."
"The piece is performed similar to a waterfall the way the notes trickle up and back down the keys," Hoffarth said.
Other UWO talent show debut performances came from Nick Fioravanti, Sebastian Vang, Clayton Fraker, the duo of Aaron Beiser and Joe Mercen, as well as the group Raw Culture.
Another powerful performance came from another first-time performer, Vaughan Turner, who delivered a gripping spoken word poetry piece, straying from the lineup's norm of musical performance.
Turner tied the Homecoming theme of games into his poetry that touched on topics ranging from Disney to mental health.
"I tried to dig deep and let out some of my inner thoughts and demons while addressing the mental health stigma because so many people can identify with it," Turner said.
Though there were many first-time performers, there were a handful of returning acts singer/rapper Dylan Finley, alternative pop duo Happy To Be Here and dance crew Beat 2 Soul closed out the night.
Muzorewa gave a warm welcome reminiscing on past talent shows he and "Beat 2 Soul" have shared.
"After six years of performing alongside of Beat 2 Soul, it's great to be back at the talent show introducing them," Muzorewa said.
As "Beat 2 Soul" finished their performance, Muzorewa called all of the night's acts back on stage for the award ceremony.
With a rousing drum roll, Muzorewa awarded 3rd place to Tabitha Prochaska for her moving cover of Miley Cyrus' "The Climb."
Second place was awarded to Prochaska sister Demetra Prochaska for an original song she sang accompanied by her guitar.
The grand prize of the night went to singer/songwriter David Paul Martin who performed two original songs with his electric guitar and kick drum.
Martin's first song from his album "Human Satellite" was titled "Come and Go" which he followed up with a new song called "Milky Way."
All three of the winners were also first-time performers.
As the award ceremony commenced, the stage full of performers transformed into what looked like the closing sequence of an episode of Saturday Night Live as all of the performers exchanged hugs, handshakes and congratulations on an incredible show.