The city of Oshkosh is receiving a $30,845 grant from Wisconsin Economic Development Department (WEDC) to renovate underused alley space in the downtown Oshkosh area into a functional public gathering space.
"I think there is a lot that goes into improving the labor force and enhancing the quality of life in Oshkosh," Oshkosh Business Improvement District manager Jessica Meidl said. "My goal is to create a vibrant downtown full of fun things to do, art, music, things that celebrate culture and diversity."
The project is funded by the Vibrant Spaces grant program, which aims to revitalize underused spaces to optimize community experiences for visitors, residents and future residents.
The funds will go toward bringing public art, lighting and seating areas to the 400 block of Main Street.
The project, which will be completed in two phases, began in May with the completion of the Oshkosh Greetings mural, the first of a series of murals scheduled this year.
Meidl said the first part of the project is set to finish this year before moving onto the construction of seating areas.
"This year, our goal is to complete the seven additional murals (one was already installed in May) and then add lighting," she said. "Phase two will be a 3-D art installation and some seating/curb appeal elements.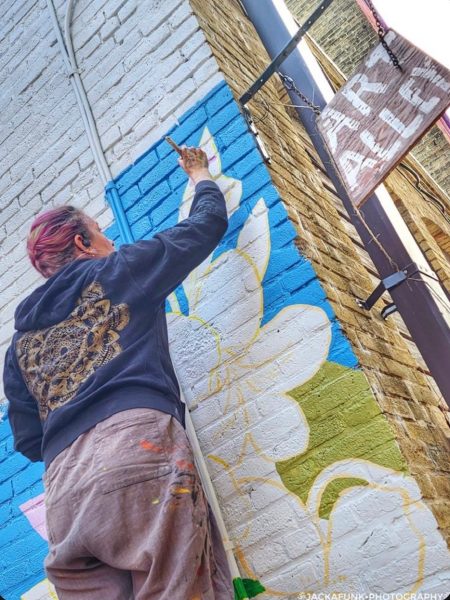 Meidl said having an inviting downtown area is vital for community members having an enjoyable experience in Oshkosh.
"The alley celebrates local artists and cleans up a part of our downtown, making back entrances to businesses more inviting and provides an outdoor space for residents and those who visit the nearby cafes and restaurants," she said.
Bringing local art, seating and lighting to the area can increase foot traffic and safety downtown Oshkosh, Meidl said.
"By beautifying and activating underutilized public spaces throughout our Central City, we are encouraging foot traffic and activity which makes spaces like the Algoma Alley safer and more inviting for visitors and residents of Downtown Oshkosh," she said.
Oshkosh currently has a walkability score of 43, according to walkscore.com, which categorizes it as a mostly car-dependent city. Meidl said increasing foot traffic downtown can encourage people to visit new places.
"Foot traffic is more about getting people moving throughout the downtown district beyond just what they came downtown for and exposing those who visit to all downtown has to offer," she said. "If you come downtown for coffee at New Moon and walk around the corner to check out the alley, you'll realize there is much more to be explored."
The Vibrant Spaces funds can also encourage economic development and attract future residents, CEO and secretary of WEDC Missy Hughes said in a press release from the city of Oshkosh.
"Investing in vibrant communities where people want to live, work and raise families is critical to attracting and retaining workers in our state," she said. "These grants will help communities create new gathering places in thriving downtowns to draw in residents, visitors, new businesses and investments."
Meidl said the Vibrant Spaces grant will allow underused alleys in Oshkosh to flourish while encouraging community members to be proud of their home.
"We are like the community's 'living room' where people gather together," she said. "By creating these little pockets to explore — like the alley full of local art — we create pride in these places and provide an experience for those who come to visit."