Student group encourages expressions of free speech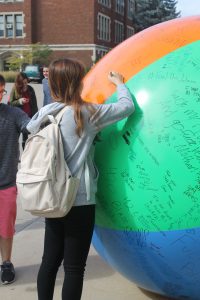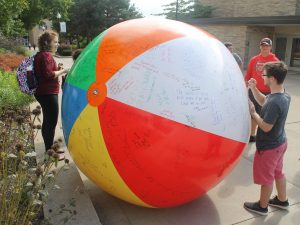 An 8-foot tall inflatable beach ball made its way around campus grounds being rolled by Young Americans for Liberty members who were encouraging students and faculty alike to write anything on it with a marker on Friday, Sept. 23.
YAL is a nonpartisan student organization focused on the informing and defense of student rights and liberties. According to the president of the local YAL branch, Jakub Nowak, the group acts when they feel it is necessary.
"We only get political when we feel the campus is trying to infringe on the rights of the students," Nowak said.
Nowak said YAL used the ball as an exercise in free speech as well as a recruitment tool to increase interest about the organization.
"In the past few years, YAL only had enough members to continue being an official group," Nowak said. "We had just enough members for the Oshkosh Student Association to approve us. Hopefully this event will make our presence known on campus."
When asked about the ball itself, Nowak said previous attempts at similar events were not as effective.
"We used to do the same thing with a wall we put up on campus, but it didn't garner enough attention because students would have to walk over to it to even see what was happening," Nowak said. "Last semester, I heard of other branches of YAL using a giant beach ball for this, which could be rolled over to where the students were."
YAL members said the ball took 20 minutes to inflate and drew the attention of many students on their way to class or lunch. Conner Zornow was almost one of the students to bypass it.
"My friend started freaking out about a giant beach ball, so I had to go check it out," Zornow said.
Zornow, who wrote "Go big or go home" on the ball, said he found the demonstration to be a good reminder of student's rights.
"Freedom of speech is important, but not always productive," Zornow said.
Laura Jean Baker, an instructor, said she was still thinking about what she wanted to write.
"The effectiveness of this exercise is limited by how seriously the people writing take it," Baker said. "Some of the notes are about important topics, but there isn't a lot to say on the campus about [certain messages]."
Senior Jordalyn Simpson brought up campus policy after jotting down "Love is love. Recognize all."
"It's good to get everyone's uncensored opinion," Simpson said. "Everyone is worth hearing, but there are a lot of standards to uphold on campus that don't allow the same kind of free speech."
After writing on the ball itself, several students also showed interest in joining YAL, signing up on a clipboard Nowak had brought along.
Kevin Borisy wrote "Get Noided" on the beach ball and said he enjoyed their approach to the topic.
"People are going to say things that I might not always like, but that's what America's about," Borisy said.