Jiu-jitsu club teaches members self-defense, technique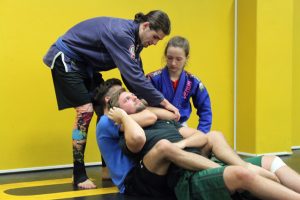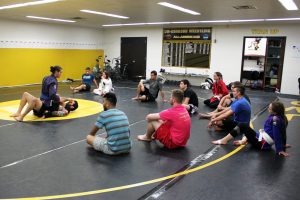 UW Oshkosh's Brazilian Jiu-jitsu club gives students a place to learn different self-defense moves in case they would ever need them, instructor Samuel Gaier said.
Gaier said the club offers students a way to de-stress and learn self-defense in a calm, safe and controlled environment.
"Our club mission is to create a safe training environment for people of all levels," Gaier said. "Our actual activity consists of basic instruction and rolling, which is a term for live sparring. In live sparring we only grapple, we do not strike."
Gaier said he started fighting after watching martial arts entertainment, promoting him to hone in on his skill set.
"My inspiration to start martial arts came from movies, TV shows and video games," Gaier said. "What keeps my passion for martial arts is the sparring. Rolling is the most fun I have ever had."
Rolling, or sparring, in Brazilian Jiu-jitsu is a term for practice fighting. It usually is not done at full effort; its focus is more learning how to apply technique.
If students want to learn how to defend themselves, or are just looking for a way to blow off steam as midterms and finals approach, Gaier encourages all to come to a meeting.