[media-credit id=157 align="alignnone" width="300″]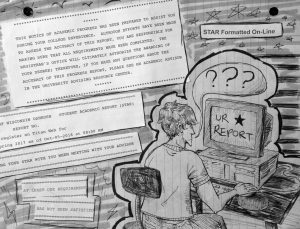 [/media-credit]
[media-credit id=157 align="alignright" width="150″]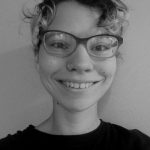 [/media-credit]
UW Oshkosh's STAR Report may be moderately helpful when enrollment time comes around, but it definitely could use a makeover.
As the report exists now, the typical UWO student has at least three tabs open in their internet browser as they piece together their class schedule: TitanWeb, for finding out which classes are open and available each semester and at what times; the STAR Report, for figuring out which classes to take; and a major-specific webpage, where course descriptions can be found.
It's a relatively complex process that could be combined and simplified.
"I feel like the names of the classes should be next to the [course codes on the report]," UWO student Micah Coates said. "[That way] you don't have to keep scrolling to the last page and back to the page you were on to see what classes you have yet to take."
Currently, required classes are listed by number behind two-digit codes signifying which department they fall under.
A common concern with the STAR Report is that students have to decode what is presented in them.
One UWO senior suggested the STAR Report should have "a simplified layout with links to extraneous information when necessary."
Possible links could refer students from the STAR to major and minor webpages, course descriptions or information to contact specific advisors.
Oshkosh Student Association president Austyn Boothe said she'd like to see more user-friendly options in the report.
"I would like to see a report that is printer-friendly and not in code," Boothe said. "Students should be allowed to give feedback on issues they have with STAR and that feedback should be used to find a reporting system that works for the students of our campus."
Many students have expressed not only that the STAR Report could be more useful, but also that it can often be difficult to comprehend without the help of an adviser.
This problem is only compounded for first-year and transfer students, as returning students are expected to have a grasp on the report already.
"I believe a STAR is only helpful to reference when students have a great understanding of the report," Boothe said. "It seems like most of us don't."
Boothe said she thinks most of the undergraduate advisers in the Center for Academic Resources are working very hard to ensure students are properly informed.
"I believe the confusion really stems from general education advisers and degree major advisers giving out conflicting information," Boothe said. "Hearing multiple different pieces of advice on what classes to take and when to take them can really set a student back if they make the wrong choice."
Having to take an extra semester in order to compensate for scheduling mistakes is one of the greatest issues when it comes to choosing classes.
The better prestented to us the STAR Report is the safer we will feel about our educational futures.
The weight of worry that comes with a messed up schedule is a heavy one that students shouldn't have to bear.
Boothe said she would like to see a system in place in which all advisers are better informed on specific and general education requirements.
"Having a STAR that is easier to read and understand would help make this process easier for all involved," Boothe said.
According to the frequently asked questions page concerning the STAR Report on UWO's website, the report is due to be updated soon.
Proposed changes include using course titles in addition to numbers within the report and adding in a "what-if" capability, which would allow students to find required classes for potential majors and minors.
The STAR Report can be a useful tool when October rolls around and students begin choosing classes for the spring semester. Its organizational system is very comprehensible, dividing major-necessary classes from those required for other reasons, in addition to color-coding classes that have yet to be taken versus those that have already fulfilled degree requirements.
The STAR Report could be more comprehensible, though, with features like printer-friendliness in all internet browsers, a more readable format and links to helpful webpages.
By making additional changes, next year's freshmen and transfer students might very well find it that much easier to navigate the scheduling of their classes; and returning students will be faced with much less worry about the possibility of taking an extra semester.