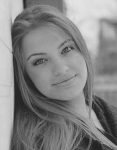 While recently scrolling down my timelines on social media, I saw video after video of sorority chapters clapping, chanting and screaming trying to get new members to join for upcoming recruitment. Quite often the caption of the video is "Sorority girls must be stopped" or something along those lines.
As a member of the Greek community myself, these videos of hundreds of girls waving their spirit fingers and yelling something inaudible partially turns me off.
Instead of getting offended over it, I have decided to debunk some myths about Greek Life here at UW Oshkosh for the upcoming informal recruitment process.
Probably the biggest, and worst, stereotype against Greek Life is the party scene. With shows on television such as "Greek," or movies like "Neighbors," it is easy to get the wrong idea, and I will admit I believed that stereotype until I rushed. Don't get me wrong, we love to throw socials and party, but we have to earn that, because it is truly a privilege, not a right.
We are at college to obtain a degree, and our education comes first. You as an individual must uphold a certain GPA, and the chapter as a whole must uphold an average GPA; failure to do so will result in consequences.
In order to ensure success, many of our chapters require weekly study hours in the library or with tutoring. I can honestly say I can walk into the library on any day, at any time, and there will be a sorority sister to double as a study buddy. It helps me succeed by getting my butt to the library, working hard to keep up my GPA and knowing that if I'm struggling, there will be girls there to help get me back on track.
Another bad stereotype we face involves money. I hear too often, "You are only paying for friends," and that is the farthest thing from the truth. You pay dues when you play sports, you pay dues when you join a club, so you pay dues when you go Greek.
A large portion of dues goes towards each chapter's philanthropy, or "charitable cause." We work year-round to support our philanthropy, whether it is fundraising/donating money, volunteering or raising awareness.
Most of us went Greek because we love to give back, and many of us joined the chapter we did because of the philanthropy associated with it. A couple examples include building strong girls, domestic abuse awareness, breast cancer awareness and autism awareness. Each chapter is different, and members would be more than happy to explain their philanthropy if you asked them.
You do gain many friends by going Greek. You share the same passions, interests and goals in life, which creates an undeniable bond with your sisters or brothers. They act as your rocks, your support system, on good days when you need praise, and on bad days when you need a pep talk.
You are truly never alone, and you don't have to worry about putting on a show because you can be yourself around them.
These people stay with you for life. Your friendship does not end at graduation.
Similarly, you gain even more friends from the entire Greek community. We love each other. Joining one chapter does not mean you need to dislike the others.
While trying to find the best sorority or fraternity that best suits you, you end up making connections with many different people from different chapters along the way.
We support each other, while also having friendly competition between each chapter. We truly are a community.
The biggest fear many people have when they think about joining is hazing. I really need you to understand UWO, and most other campuses in the United States, have a zero-tolerance policy towards hazing.
Lastly, we are not very big. With Oshkosh being a relatively small campus, the Greek community represents only about five percent of campus. If you are apprehensive about extremely large groups, joining a chapter will not have hundreds of people crammed into one house.
Some chapters are bigger than others, so whether you are a social butterfly, or more introverted, there will be a chapter to suit you. No matter where you turn, each chapter will welcome you to check out what they are all about.