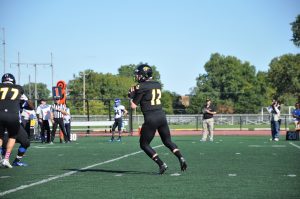 The UW Oshkosh football team improved its record to 2-0 this weekend in Michigan as they defeated Finlandia University 68-7 after totaling 582 yards of offense and holding the Lions to only 135.
In 2015, the Titans went 7-0 in conference play and ended with an overall record of 11-2 when the season ended with an NCAA Division III quarterfinals loss to UW-Whitewater 31-29.
Quarterback Brett Kasper said he admits there is more pressure than usual.
"Obviously there's a lot of pressure to repeat and go even further," Kasper said. "The biggest thing with us is experience. Teammates that have a lot of experience around you helps ease the nerves."
Linebacker Steve Forner said the team has a lot to play for this year.
"I think it's an opportunity for us," Forner said. "We have big goals for our team and we're looking to meet those goals."
The game against the Lions started with a drive from the Titans that consisted of one play with a 65-yard touchdown run from running back Dylan Hecker.
The Titans' next possession was an 87-yard punt return from wide receiver Dom Todarello with 11:35 remaining in the first quarter.
After another possession from the Lions that resulted in no points, the Titans had a drive that went nine plays for 62 yards and resulted in a field goal which brought the score to 17-0.
With less than a minute to go in the first quarter, Kasper had an 18-yard touchdown pass to Todarello which brought the score to 24-0.
UWO chose to sit Kasper for the rest of the game in the second quarter and with 11:29 left in the half, quarterback Connor Senger threw a 15-yard touchdown pass to running back Mitch Gerhartz, widening the Titans' lead 31-0.
After forcing the Lions to punt yet again, Titans freshman wide receiver Riley Kallas blocked the Lions punt sending the ball into the endzone where it was recovered by Titans defensive back Brad Walovitch for his first career touchdown.
UWO was running away with the game leading 38-0 with 9:10 still left to play in the second quarter.
Gerhartz had his second touchdown of the game at 7:17 in the second quarter, which was a 19-yard touchdown run in a drive that went two plays for 19 yards and lasted eight seconds.
Going into halftime, the Titans had a wide lead of 44-0.
The start of the second half began with a couple empty possessions from both teams.
With 7:58 left in the third quarter, the Lions found a way to put points on the board with a 26-yard touchdown pass from quarterback Ryan Rivera to receiver Corey Dunn bringing the score to 44-7, which would be the Lions only scoring play of the game.
On the following possession, the Titans scored again with a 45-yard touchdown run from Senger.
A couple possessions later, Forner had a one yard rush for a touchdown bringing the score to 58-7 by the end of the third quarter
A field goal by kicker Greg Rand was made midway through the fourth quarter and with 4:09 left to go in the game, wide receiver Kallas had a 37-yard touchdown run to bring the final score to 68-7.
Pat Cerroni said he is satisfied with the offense's performance so far this season.
"I'm feeling pretty good about it," Cerroni said. "They're working hard and trying to get better."
Two games into the season, Kasper said he is feeling good about being back on the field and is pleased with the team thus far.
"I know coach is pretty pleased with how we are playing so far," Kasper said. "You always want to be 2-0 to start the season."
Cerroni said he is satisfied with the team, but realizes there is still a long way to go.
"I feel they're playing exactly where they should be," Cerroni said. "They know it's a long haul. We've got a long way to go. We're just taking it game by game."
The Titans' season continues this Saturday, Sept. 24 at 1 p.m. at Morthland College in Illinois.