Tennis
The UWO women's tennis team suffered their first loss of the season last Friday, Sept. 14 to UW-La Crosse. The rival Eagles picked up their fifth win of the season as they swept the Titans 9-0.
In singles, UWO freshman Michelle Spicer fell to Alyssa Boyer (6-2, 6-1), sophomore Kelley Hodyl was defeated by Maura Andersen (6-1, 6-1) and juniors Alyssa Leffler, Samantha Koppa and Monica Micoliczyk fell to Kimberly Steinert (6-1, 6-2), Sadie Spahn (6-3, 6-1) and Shira Busch (6-0, 6-2) respectively. UWO Senior Hannah Peters lost to Hayley Clope (6-0, 6-3) and talked about her 8-2 doubles loss alongside partner Hodyl.
"Kelley and I did a good job of putting our serves into play and making La Crosse make good shots," Peters said, "rather than win off of our unforced errors."
The other two doubles matches saw Koppa and freshman Ireland Slattery fall to Andersen and Kaitlyn Kalinka (8-5), and Leffler and Spicer fell to Boyer and Steinert (8-4).
Head coach Robert Henshaw talked about how the Titans handled their doubles matches.
"I think we missed out on a couple of opportunities to win in doubles," Henshaw said. "Doubles is a race to win eight games first and you have to be a fast starter. There is no leeway to work your way into the match. Slow starts and the failure to win a few big points really hurt us."
A new crop of seven freshman players have made their way to the Titans. Senior Ashlee Polena explained how a large group of new players changes a lot of things after the team was significantly smaller for the past two seasons.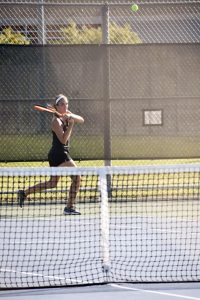 "I was on the team when there were only five girls," Polena said. "The dynamic changes, the competition changes and the way you play changes."
The changes appear to be going smoothly as in their first two games of the season; the Titans beat Marian University 9-0 and St. Norbert College 8-1. The season kicked off on Saturday, Sept. 1 when UWO finished seventh at the UW-Whitewater Invitational.
The Titans are 2-1 with the season a few weeks underway. With such a large group of players, Henshaw said he is impressed with the team's camaraderie thus far.
"I like the depth of our team," Henshaw said. "I like our camaraderie. The ladies support each other and really seem to play for each other too."
UWO sits in fifth place in the Wisconsin Intercollegiate Athletic Conference standings through one conference match.
The Titans' next event will be this Friday, Saturday and Sunday, Sept. 21, 22 and 23. They will be traveling to St. Peter, Minnesota for the ITA Division III Midwest Regional.