Titan seniors cap career with win versus Blue Devils
The UW Oshkosh football team won their final game of the year on senior night versus UW-Stout last Saturday 27-13 to make their record 6-4 on the season.
UWO scored 21 straight points to secure a 27-6 lead, putting the game away with just over four minutes left to play.
The Titans were led by senior wide receiver Dominic Todarello who compiled eight receptions and 94-yards receiving against the Blue Devils.
The Titans replaced starting quarterback Kyle Radavich with freshman Steven Makinen who put up 283 passing yards and a touchdown on 18-26 passing.
First quarter
UWO began their first drive of the game from the Blue Devil 45-yard line. After an 8-yard pitch and catch from Radavich to Todarello, a 15-yard unsportsmanlike conduct penalty was called to move the ball to the Stout 16-yard line.
Four plays later, running back J.P. Peerenboom ran for a five-yard touchdown, putting the Titans ahead 6-0. Kicker Peyton Peterson's extra point attempt was blocked.
The Blue Devils were able to tack on three points following a field goal late in the first quarter.
Second quarter
At the 11:03 mark in the second quarter, Todarello fumbled on the Titan 35-yard line, giving the Blue Devils short field position. Seven plays later, Pearson evened the score at 6-6 after a 34-yard field goal.
With 4:04 left in the first half, the Titans put together a seven-play, 55-yard scoring drive that included a 31-yard reception by Riley Kallas from Makinen and a drive capitalizing one-yard rushing touchdown by running back Joe Franks.
Third quarter
During the third quarter, the Titans and Blue Devils shared five possessions each with no scores provided.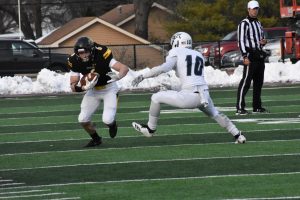 Fourth quarter
The 10:10 mark in the fourth quarter was the beginning time of two consecutive touchdown drives for UWO.
Makinen led the first drive from the Stout 39-yard following a Kollyn Beyer interception. This nine-play, 39-yard touchdown drive was capped off by a two-yard pass from Makinen to Todarello putting the Titans ahead 20-6.
The second scoring drive of the fourth quarter was set up by a AJ Plewa interception. The UWO offense put together a five-play, 35-yard drive to send Joe Franks into the endzone with a one-yard rushing touchdown to put the Titans up 21 points with 4:09 remaining in the game.
UW-Stout was able to score a touchdown by Blue Devil running back Josh Nitek with three minutes remaining in the game. Titans finished off the Blue Devils 27-13 finishing the season with a 6-4 record.
Despite playing while knowing that playoffs were out of reach, head coach Patrick Cerroni said he could not have been more pleased with how his team performed to send the seniors out on a high note.
"I am happy for the seniors," Cerroni said. "All of them played extremely well. Offensively we had flashes of what we could do, which was nice to see. Cody Moon got a couple big catches, Dom [Todarello] scored, it was awesome. O-Line looked good. Defensively, I think we played outstanding, which was awesome."
Cerroni kept it short and sweet addressing the senior class after their final collegiate game for the black and gold.
"I told 'em I loved 'em." Cerroni said.
Senior linebacker Derrick Jennings Jr. said when game was over, the underclassmen on the team showed the utmost respect and gratitude toward him and the fellow seniors for what they had done for the UW Oshkosh football program.
"After the game, guys would come up and say, 'Thank you. You taught me how to lead. You showed me what it meant to be a leader.'" Jennings Jr. said.
Reflecting on the the 2018 season, Jennings Jr. said this season created memories that he will never forget.
"The locker room was always fun," Jennings Jr. said. "We played hype music. Certain guys would always be dancing around. There's specific songs that in the future whenever I hear them I'm sure I will get a little amped up."
Jennings Jr. said he learned life lessons from Cerroni and the coaching staff and they have made a huge impact on his life.
"I've never had a relationship with coaches like I've had here at Oshkosh," Jennings Jr. said. "They taught me a ton about football and being a great person in general. Coach [Cerroni] specifically, he taught me how to being real with yourself and not sugar coating certain things in life. It's bigger than just football."
Junior defensive back Kollyn Beyer said that playing with this senior class was beyond the sport of football.
"The group of seniors I was able to play with and the relationships I built with them," Beyer said. "You can learn from anything. When it comes down to it, it's not wins and losses. At the end of the day, the relationships are just as important as any record or championship you can win."
Heading into offseason, Beyer said the senior class plans to rebound and put the work into making sure that come next fall, the team is in place to improve their record.
"We have a pretty general idea that we got a lot to prove as a class," Beyer said. "Coming off a 6-4 year, we don't have any All-Americans in our class returning. As a group, collectively, we've got a lot to prove."