The boys are back in town
The UW Oshkosh men's basketball team won its NCAA Division III tournament semi-final matchup against the University of Northwestern-St. Paul by a score of 108-86 last Saturday night.
UWO had one of its most dominant games of the year offensively, as they got up early and never relinquished the lead.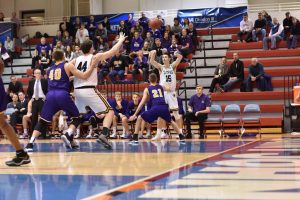 The Titans came out of the gate strong and opened up a 9-2 advantage on the Eagles with hot shooting from senior guard Brett Wittchow and junior forward Adam Fravert.
At halftime, UWO held a 57-38 advantage thanks in part to stellar 3-point shooting. As a team, the Titans shot 52.4 percent from beyond the arc in the first half with senior Ben Boots splashing five of his first six shots from behind the 3-point line.
Boots led the Titans with 25 points and seven assists. Boots shot 60 percent from beyond the arc on the night, splashing six of his 10 shots.
Oshkosh put up its largest point total on the season, scoring 108 points, setting a school record for most points scored in a postseason game. All five Titan starters put up double-digit scoring nights.
Junior center Jack Flynn quietly scored his 1,000th point of his career on Saturday night, making him the 35th Titan to do so.
Boots said the ability for multiple guys to score on any given night really makes it hard for UWO's opponents.
"I think one of our biggest strengths when it comes to the offensive end is the ability for a lot of guys to do damage," Boots said. "I think we're at our best when we have kind of a spread like that where we have multiple players in double digits. It makes us difficult to stop."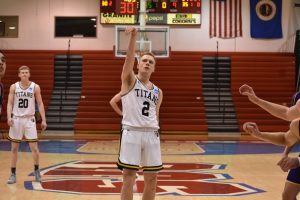 Fravert and sophomore Connor Duax each scored 19 points and pulled down 11 rebounds to record double-doubles for UWO. Seven of Duax's 11 rebounds came on the offensive end of the floor as he was able extend possessions for the Titans.
Northwestern got a push from junior Noah Alm as he scored a game-high 29 points on 11 of 14 shooting for the Eagles.
Head coach Matt Lewis said he was impressed with the effort his team put in and hopes they can keep it up.
"It was another great example of who our guys are," Lewis said. "Tonight's just a great example of who we are, who our guys are and hopefully who we get to be next week."
To get to the semi-final matchup, the Titans went through Lake Forest College on Friday night, beating the Foresters by a score of 86-62.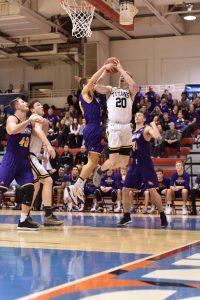 Fravert flirted with a triple-double as he put up monster numbers with 22 points, 12 rebounds and six assists during the night.
Flynn and Boots also had double-digit scoring numbers as they dropped 18 and 17 points, respectively. Flynn also added 10 rebounds to help UWO hold a 48-28 advantage on the boards over the Foresters.
The Titans also moved the ball well, as they had 23 assists as a team while Lake Forest only had six.
Fravert said even though the team ultimately wants to make it to Fort Wayne, Indiana, they need to focus on the next scheduled opponent.
"We're just taking it one game at a time," Fravert said. "We're just looking at the next opponent, not looking ahead too far."
Lewis said it doesn't matter who the Titans play next because they feel they can beat anyone right now.
"We'll play anybody, anywhere, anytime," Lewis said. "Throw us on a bus and send us somewhere; we just want to play next Friday night."
The Titans will in fact not need to use a bus to travel to their next game as they will host Loras College in the Sweet Sixteen round of the NCAA Division III men's basketball tournament. The game is set to be played on Friday night at 7 p.m. in Kolf Sports Center.
About the Contributors
Neal Hogden, Managing Editor
The College of Letters and Science at UW Oshkosh is proposing to increase teaching loads in 2019-20 in an effort to overcome a $1 million budget shortfall.

Under...