World Hijab Day brings UWO women together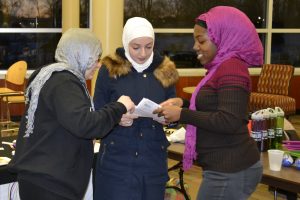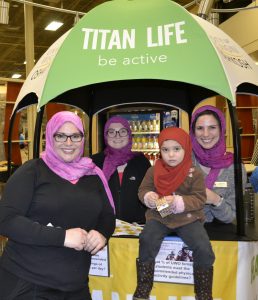 In honor of World Hijab Day on Feb. 1, the UW Oshkosh Women's Center set up booths on campus to provide information to students about the hijab and its role in Muslim culture.
There were tables in both Reeve Union and the Student Recreation and Wellness Center that aimed to inform students about the hijab, the headpiece worn by some Muslim women, and its role in Muslim culture.
World Hijab Day began in 2013 in recognition of Muslim women who make the choice to wear the hijab.
The day's founder, Nazma Khan, came up with the idea as a way to spreading information about the hijab as well as to promote more religious tolerance, according to the World Hijab Day website.
Through this event women are invited to wear the hijab for a day to get a feel for what it is like for Muslim women who choose to wear it.
Women were invited to stop by the booths to experience wearing the hijab and were helped with putting it on by members of the Muslim community.
These women helped students and faculty put on the hijab and took photos with those wearing it.
The hijabs were donated from a local Muslim faith community and women were able to take the hijab home with them, as they were encouraged to continue their experience by wearing it for the rest of the day.
South Gruenhagen health advocate Jasmine Pickett did not know it was World Hijab Day when she walked into the SRWC to take part in the National Women & Girls in Sports Day events, but was open to the experience.
"I think it's really important that UWO celebrates this day," Pickett said. "I think that it's a good thing for us to expose students and faculty to a different culture."
Pickett said she thinks it is important that campus members try to understand Muslim culture and what hijabs mean to those who choose to wear them.
"It's kind of a cool experience because this is my first time [wearing the hijab]" Pickett said. "You can kind of [get an idea of] what other people think or how they receive people who do wear hijabs."
Pickett said she noticed a few people were staring, but continued wearing the hijab and didn't feel pressured by this to take it off.
Women's Center program assistant Eliza Farrow said she hoped this day helped people feel comfortable asking questions and learning about other cultures and communities they may not know very much about.
"World Hijab day is about exploring Muslim culture and wearing a hijab to be in solidarity with Muslim women," Farrow said.
Farrow said with all that is going on in the current environment throughout the United States, as well as the rest of the world, this day is a great opportunity and a great resource to become more educated on aspects of Muslim culture people may not know much about.
"A lot of the media narrative is often that [the hijab] is a symbol of oppression," Johnson said. "But we're here to challenge those misconceptions and to hear from Muslim women about why they choose to wear the hijab, because it is their choice and right to do so."
Johnson said the experience of wearing the hijab is different for everyone, as they wear it for different reasons, but emphasized the importance it holds to those who choose to wear it.
"Any time that we can, even for a day, put ourselves in someone else's shoes, I think it's important to take that opportunity and reflect on what that experience was like," Johnson said. "So that we can work from a place of empathy to make our environment more safe and inclusive for everyone."
Johnson said she hoped those who participated in the day's event do not walk away with the idea of wearing the hijab as a singular experience.
"It's an important show of solidarity that people are not only willing to put it on or wear it for an hour, for the day, but that they're just there and willing to learn," Johnson said. "I think a lot of the women that were there earlier walked away and just felt heartwarmed, and I think for me that makes it all worth it."