Local Live Music Night hosts local metal bands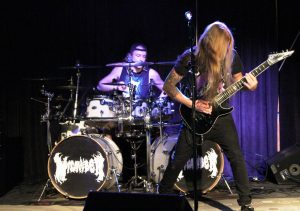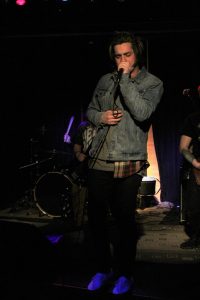 Local Live Music Night was held in Titan Underground on Thursday, featuring local and regional bands and musicians to perform on campus.
The event's theme was Metal Night, with performances by the bands MICAWBER and American Bandit.
MICAWBER, a band from the Green Bay area, was first to perform. The band consists of Derek Debruin on guitar, Leighton Thompson on vocals and guitar, Tyler Lachowicz on drums and Marv on bass.
MICAWBER has been together for 10 years; however, Marv has only been a part of the band for the past five years. Their favorite pre-show ritual as a band is to listen to Metallica and have a couple of beers to get into the mood.
Their set consisted of high energy and head banging, giving the full rock experience.
The band featured a few of their new songs for the event.
Second to the stage was American Bandit, originating from the Milwaukee area. Previously known as Audacity, they recently changed their band name for the New Year and this was their first show under the new name.
The band performed at UW Oshkosh three years ago and gladly accepted when asked to return.
American Bandit has been together for four years and consists of Nick Heath on vocals, Ryan Roberts on drums, Alec Swartz on guitar, Josue Tinajero on bass and Jared Gerbing on guitar.
Like MICAWBER, American Bandit's favorite pre-show ritual is to have a couple of beers before taking the stage to perform. They also like to stretch out to get completely relaxed.
Their set was full of high energy with Heath carrying on the energy throughout by having fun with the microphone and getting into every song. At one point he climbed on top of a speaker and jumped off, which he was quickly chastised about after the song.
UWO junior Genevieve Schroeder heard about this event from a poster in the Titan Underground.
"I really enjoyed it," Schroeder said. "I have to get my hearing back but I really enjoyed it. Even though it was a little heavier than I'm used to listening to, it was still really good."
UWO sophomore Shannon Couillard heard about Metal Night from someone standing up in choir and announcing that this event would be held the following night.
"I really liked the first one a lot; the second one not too much," Couillard said. "I liked some parts but you know the energy was a little different."
Despite preferring MICAWBER, Couillard said she would happily go see another performance by both bands.
UWO sophomore Brandon Fuller was also intrigued by the posters around campus. He also follows American Bandit on Instagram so he was even more interested in attending.
"I thought it was really cool," Fuller remarked, "It was my first show at the Underground."
Fuller said he enjoyed American Bandit more than MICAWBER, but said that MICAWBER's guitar playing was highly impressive.
UWO freshman Nathan Kendall was told about Metal Night by Fuller and came with him to see them perform.
"I liked American Bandit a lot, not sure about the first one," Kendall said.
Although he enjoyed American Bandit more, Kendall agreed with Fuller on MICAWBER's impressive guitar skills.
If interested in checking out either of these bands, both of them can be found on Facebook under their respective band names.