UWO shuffles despite cold temperatures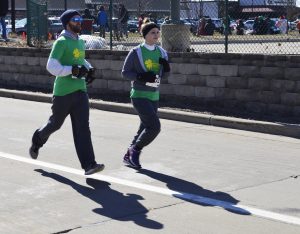 UW Oshkosh hosted the annual Shamrock Shuffle 5k on Saturday, presented by BioLife Plasma services.
Proceeds from the day's event benefited the Oshkosh area United Way and the UW Oshkosh Student Veterans Association, according to the Its Your Race website.
A total of 1,589 participants came out to join the race Saturday morning and 1,253 of those were finishers.
Participants were provided with various treats, such as apples, oranges, bagels and sub sandwiches, which were available in the Student Recreation and Wellness Center to gain energy for the race and to refuel after.
Sophomore Sydney Krystowiak took part in this year's 5k for the first time.
"I did it with some of my sorority sisters," Krystowiak said. "My favorite part was bonding with them more and just talking."
Krystowiak said she thought the shuffle was a lot of fun and would do it again next year, but she wished it had been a little warmer out for this year's, as the cold was uncomfortable.
Senior Sam Walvort came out to support some friends and all the runners at the event.
"I've ran in the shuffle before and had so much fun when I did it," Walvort said. "I wasn't sure if I was going to be able to come this year, but I'm glad I was able to come support my friends."
Walvort said it was hard to stay warm in such cold temperatures, but it was worth it to see everyone.