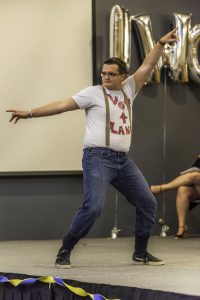 Alpha Xi Delta held the Mr. UWO event to help raise awareness and donations for Autism Speaks Monday night.
"Mr. UWO [was] started by our chapter wanting a fun way to raise money for our philanthropy, Autism Speaks," Alpha Xi Delta President Mary Buchaklian said. "Alpha Xi Delta chapters across the nation do amazing challenges every year to raise money [for Autism Speaks]."
Buchaklian said they want to have an event that not only raises money but also helps educate the community about the cause for which they are collecting donations.
"To help incorporate Autism Speaks into this event, part of the competition [is a question and answer] portion that each contestant needs to answer," Buchaklian said. "The questions asked are all based on autism facts, and that is why each contestant has a coach."
Prior to the competition, each contestant is paired with a member of Alpha Xi Delta who acts as their coach to teach the men about autism and Autism Speaks, which prepares them for the Q&A, Buchaklian said.
Winner Kyle Lange took part in Mr. UWO for a second time this year after competing once before in 2014.
"I hope everybody who attended the competition saw it as not only the competition but as inspiration to open themselves up and get out of their comfort zone," Lange said.
"I hope they went home and told their friends that there are ways to begin learning more about autism and people living with autism and that it doesn't take much to step out and make somebody's day a little brighter."
Lange spoke of his interactions with the autism community during the Q&A portion of the competition, and said he met a friend's younger sister who has autism during his time as a lifeguard.
"[My friend] often brought his little sister swimming, and eventually him and I got to teach her how to swim," Lange said. "The biggest thing I learned from her was how to be a more patient person. I've always liked to get things done quickly and efficiently so I can move on to the next task. However, with her I had to slow down and really work beside her as she learned more and more."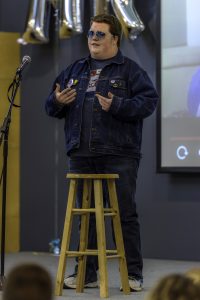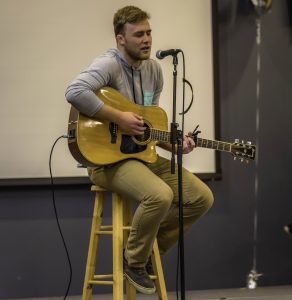 UW Oshkosh Women's Center director Alicia Johnson was a judge for this year's Mr. UWO competition.
"I personally enjoyed hearing about the passion each contestant held for making their community more inclusive," Johnson said. "The event was also a great way for people to learn more about autism and activism surrounding the topic on campus."
Johnson said she has experience with the autism community but her main motive in judging the competition was to support the students who are showing their passion for a cause.
"I hope those who attended the competition were inspired to become more actively involved with raising awareness about and contributing to causes that matter to them," Johnson said. "Taking action, whether large or small, is an important piece of making our campus and community more inclusive."
Lange said he hopes those who attended the competition learned something about autism they didn't know prior to coming, and hopes they take further steps to spread awareness.
"The affiliation with Autism Speaks is important because a lot of people interact with people living with autism on a daily basis, but never really take advantage of those opportunities to get to know somebody with such a different story than their own," Lange said. "Affiliations such as this one shows families and people living with autism that they have support and are accepted wherever they go."