'Seascapes' washes into Frederic March
[media-credit id=129 align="alignleft" width="300″]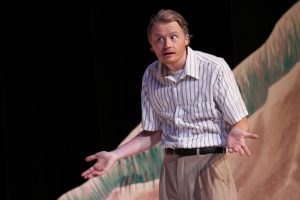 [/media-credit]
To kick off theatre season, the UW Oshkosh theatre department will explore the evolution of relationships with Edward Albee's absurdist play "Seascape," which runs Oct. 5-7 at 7:30 p.m. and Oct. 8 at 2:00 p.m.
Set in 1975, "Seascape" takes place during an older couple's beachside vacation, which takes a surprising turn when they are joined by a much younger couple.
"Something out of the ordinary, that is not part of how the real world functions, happens, and we go with it and see where it takes us," director Jane Purse-Wiedenhoeft said.
Garret Johnson, who plays Charlie in the older couple, said for an audience to fully appreciate the messages in "Seascape" it will have to accept the absurd qualities of the show.
"Be prepared for anything," Johnson said. "An absurdist play can go in any direction that it wants to. It has no barriers in which to be held."
Part of what the audience can expect, actor Parker Sweeney said, is that the younger couple is a pair of lizards.
"Though at first you're seeing the impossible . . . by the end you'll almost forget about the difference and be encapsulated by the story," Sweeney, who plays the male lizard, said.
Maggie Clementi, who plays the female lizard, said despite her and Sweeney's somewhat inhuman movement and body language, she forgets she's playing a lizard at times.
"The dialogue makes [the audience] forget they are lizards, but they don't because we do keep talking about the differences between lizards and humans," Clementi said. "They'll notice it, but it won't deter them from what's happening."
Sweeney added the differences the characters explore are a key part of Albee's message in the play.
"Hopefully [the audience] leaves with a better understanding of difference and how to accept it," Sweeney said. "It is our duty as just citizens to educate those who are unaware; we must educate."
Along with exploring the process of evolution and the differences it creates, Purse-Wiedenhoeft said "Seascape" deals with the evolution of relationships at different stages of life.
"I hope [the audience] is able to relate some aspect of what these two couples are going through to their lives," Purse-Wiedenhoeft said.
With a small, intimate cast of only four actors, Purse-Wiedenhoeft said the actors have a lot of ownership of how their characters developed and how the audience will perceive them.
"For this show I didn't write down movements ahead of time," Purse-Wiedenhoeft said. "I wanted it to be more of an exploration and see what the actors could find."
Clementi said through discovering her character and developing the relationships on stage, she'd been able to reflect on her own relationships.
"['Seascape'] is very real," Clementi said. "It's a good representation of life; there are good moments and there are uncomfortable moments, but there are also moments that you either have to laugh at yourself or laugh at the situation."
Clementi added the realness of this absurd play and the variety of topics it covers might make the audience squirm a little, but only because the issues will hit close to the heart.
"People are uncomfortable talking about their bodies and that's something we talk about as well, and I think that's something people need to become more comfortable with because it's something everyone has and it shouldn't be so taboo," Clementi said.
Purse-Wiedenhoeft said much of what Albee is trying to say with "Seascape" is that people must continue to evolve.
"We all get stuck in patterns and we think we're done, like we've figured out life and we're done, but I think this play tells us that even when we think we're done, we're not," Purse-Wiedenhoeft said. "There's still life in us. Don't give up on yourself or the future or those around you, because you might surprise yourself."
Student tickets, which are $5, are available at the Fredric March Theatre's box office, which opens an hour before each show