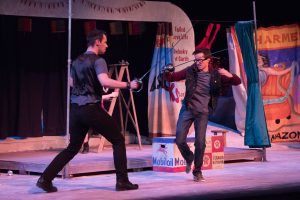 UW Oshkosh's theatre department will follow its production of the absurdist play "Seascape" with the surreal musical "The Fantasticks," running this weekend, Thursday through Sunday.
Director Merlaine Angwall said the musical's surreal aspect comes from the authors' use of a narrator, El Gallo, played by newcomer Matt Peplinski, as a means to tell this love story and emphasize the musical's message.
"The story is really about the loss of innocence and what we perceive as romantic and love and what reality really is," Angwall said. "Its message is important today because I think people hear what they want to hear and see what they want to see and they don't often look at reality."
"The Fantasticks" opened off-Broadway in 1960, ran for 42 years and earned its writers, Harvey Schmidt and Tom Jones, the Special Tony award in 1992. The show received its first revival in 2006 and ran until June of last summer.
Hannah Olsen, who's new to the UWO stage and plays Hucklebee, the mother of one of the show's protagonists, said the show takes after a Shakespeare classic but with some modern humor.
"It's kind of a twist on 'Romeo and Juliet,'" Olsen said. "There are intimate moments but also lots of funny moments that will keep people entertained throughout the show. Plus, Merlaine's set the show in a non-specific desert and we're a bunch of ex-carnies."
There are two mothers in this production of "The Fantasticks," but the original production involved two fathers. Angwall said she blind-casted the parental figures, allowing all open interpretation of the roles.
Angwall said she has enjoyed working with a relatively small cast but also all the extra collaborators a musical requires.
"It's been a fun experience getting to work together as an ensemble and collaborate," Angwall said.
Angwall added that one of those collaborators is choreographer Ashley Rockwood, who Angwall knows from past theatre experiences, and said Rockwood has an extensive dance background, including dancing backup for Beyonce.
Matthew Beecher, who plays Hucklebee's son and the male romantic interest, said that "The Fantasticks" has a lot to offer an audience, including swashbuckling stage combat, dance, a love story and surprisingly touching music.
"It's something I never would have anticipated just looking at the work outside of myself, but after participating in it I've found a lot of good nuggets," Beecher said.
Kate Sawyer, who plays Luisa, Matt's romantic interest, added that humor is the common thread through the entire performance.
"There's tons of humor; there's smart humor and some references that theatre-goers will understand," Sawyer said. "There's some slapstick humor and some really smart jokes, and it's just funny throughout the whole thing, even when things aren't going well. And puppy-dog love and being in love for the first time is very relatable."
Garret Johnson, who plays one half of the show's comic-relief alongside theatre veteran Parker Sweeney, said after playing Charlie in UWO's "Seascape," being in his first musical has taken some adjusting.
"In a musical, the acting is a little bit more showy, not to say that's it not good, but it seems everything is done bigger, a little bit grander scale," Johnson said.
Beecher said that after taking on a few smaller roles on the UWO stage, playing Matt has been a large responsibility, factoring in the musical element of the show but also the character development.
"[Matt] has two kind of battling sides," Beecher said. "It's kind of like 'I know everything even though I have no experience, so I'm going to act like I know everything,' and then this Romeo character with Sawyer's character Louisa. As the show goes there's a falling out with both of those characters, which is a new character in and of itself."
Sawyer said she and Beecher were friends before college and they have acted opposite each other before, so slipping into the show's romantic leads took no time at all.
"It's really, really comfortable, but I also think because have so much history it's a little bit weird," Sawyer said. "It's basically like having to fall in love with your brother every day."
Beecher said "The Fantasticks" is a great show for college students because it deals with the displacements many young adults feel when in the midst of transitions.
"Some big themes are coming of age and growing up and I feel like just stepping out of what you feel is secure and getting out into the real world," Beecher said. "I feel like that's a big hurdle, especially for college students, whether they're graduating or just starting and experiencing a new world."
Performances start at 7:30 p.m. Thursday through Saturday and 2:00 p.m. Sunday. Student tickets are $5 and the box office opens an hour before the show.