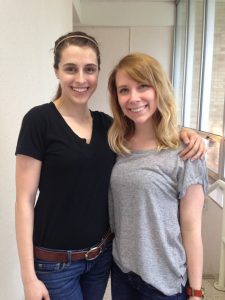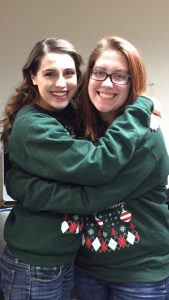 It was grammar day in Writing for the Media, and my classmates were furiously writing, heads buried in their notes about subject-verb agreement, who versus whom and commas splices. I, however, didn't even pick up my pencil or open my notebook. I had not only learned and mastered these grammatical concepts years before, but also adored them. Yes, to me grammar is magical, and editing people's writing is exhilarating.
Once I realized how poor of a student not taking notes made me look, I went to my professor's office to explain myself. Immediately upon hearing my love for editing, professor Vince Filak told me I belonged at the Advance-Titan. I could have never predicted how right he was.
For the last three years, I have spent every Wednesday night in the newsroom for better or worse, for delirious laughter or grumbling frustration, for "Wait, this is really how little I make?" or poorer, in sickness and in health, until graduation comes and security has to escort me out of the newsroom.
My college experience has been defined by my work at the Advance-Titan and the different positions I held each semester. When I was assistant campus connections editor, I learned the importance of teaching and nurturing writers instead of spending three hours trying rewrite a story myself.
One of my most defining experiences at the A-T was when a girl yelled at me for making her sound stupid in story. Bawling and distraught, I called then-managing editor Katie Neumann for help. She explained to me that I shouldn't be upset because I didn't do anything wrong. It wasn't my fault she said she didn't know there were trees in Africa or that she used the three different types of "there" incorrectly in the same sentence. How Katie dealt with the situation was the perfect example of how I have tried to act ever since, responding to upset people as calmly, empathetically, and professionally as possible.
Not only did I develop a thick skin at the A-T, but also I learned how to use InDesign, how to manage different types of people, how to have difficult conversations, how essential credibility is, and how to take on responsibility when others fall short.
Much of my time as an editor was responding to and fixing problems such as when a writer quits, when I had to completely report and rewrite a 1,000-word story in three hours, or when the 40 study abroad fair pictures I was expecting became in reality five photographs of a poster. At the Advance-Titan, you succeed because there is no other option.
My gratitude for the Advance-Titan and the friends I have made there is infinite. So much of who I am as an editor is because I had the privilege of learning under the direction of Jes Kuderer, a superstar editor/goddess/mother/warrior all in one. Thank you, Jes, for always believing in me.
While the newsroom in general became my family during my time at UW Oshkosh, the women with whom I was a section editor have a special place in my heart. Erin Caine, with whom I worked in campus connections, is to this day one of my closest and most beloved friends. For the past three semesters, Katie Knox and I have grown as journalist, as leaders, and as friends together. From our days as news editors, staring at blank pages and not knowing what to do, to now as experienced leaders, we have always done it laughing hysterically along the way.
Even though I have said it countless times already, I will say it again: I believe the Advance-Titan is the best learning opportunity for any journalism student on campus. I have learned more at the A-T than in all of my classes and internships combined. Even though I barely made any money and endured some of the most arduous and frustrating moments of my life, I would do it all over again. It's about laughing until you cry while trying to write headlines. It's about the adrenaline rush of reporting a huge story. It's about knowing you are doing something that matters.
I can't adequately summarize my time at the A-T in a few paragraphs, but for that, I am glad. I'm glad because that is what the Advance-Titan is—it's bigger than I, bigger than anyone. I hope future journalism students take advantage of one of the best experiences they could possibly have.