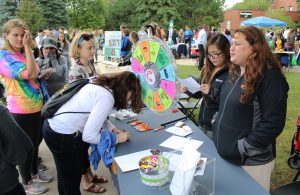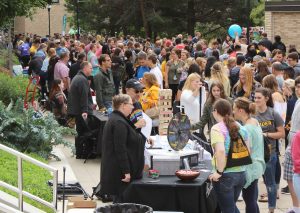 The annual Taste of Oshkosh event sponsored by Reeve Union Board and Career Services brought in all kinds of student organizations and businesses for almost 2,000 UW Oshkosh students to explore, on Sept. 6.
Carmen Hetzel, the Emerging Programs and Special Events Adviser for Reeve Union, said Taste of Oshkosh offered a variety of booths for students to check out.
"We had participation from roughly 138 recognized student organizations, 35 university departments,16 volunteer agencies and 72 community businesses," Hetzel said.
Hetzel said in addition to the organizations benefiting from Taste of Oshkosh, the University's departments do as well.
"The event also offers space for university departments to advertise their resources and leadership opportunities to new and returning students," Hetzel said.
Hetzel said students and staff help kick off the UWO school year every year by filling up the main intersection of campus with group booths and job opportunities.
"There is a fantastic combination of students, staff and faculty, and community members at the event that always brings life to our campus at the beginning of the year," Hetzel said.
RUB president Matthew Thomsen said Taste of Oshkosh is a great way for UWO students to find a new interest without feeling pressured.
"Taste of Oshkosh is an essential event for students who are looking to get involved on campus," Thomsen said. "The event allows organizations of many different interests and goals to be presented in an easily approachable fashion. Without Taste of Oshkosh, many students may miss an opportunity to discover a cause, hobby or community that they really enjoy."
According to Hetzel, on top of all the student organizations presented at Taste of Oshkosh, there were also employers for students to speak with.
Thomsen said this helped offer something for everyone at Taste of Oshkosh.
"Taste of Oshkosh includes employers because some students may not be looking for an on-campus experience as much or are interested in gaining valuable work experience before graduating and joining the workforce," Thomsen said.
Student organization booths ranged from the Student Recreation and Wellness Center to Titan TV.
Titan TV Operations Manager Amanda Beistle said their booth aimed to broaden their membership demographic.
"We tried to build our involvement," Beistle said. "We keep retainment from previous years. We're trying to bring in other majors from campus because it doesn't have to just be radio/TV/film majors. It could be journalism, biology, even nursing majors if they wanted."
UWO senior Dani Shelley worked at the Rainbow Alliance for H.O.P.E. booth where they focused on building their membership as well as educating students.
"We are one of the two LGBTQ groups on campus," Shelley said. "Ours is geared more towards activism and information, while the other is based around building a sense of community. Having the booth out here lets students know that we are here, and they can come to us with any questions they have."
Thomsen said going to college is about having the freedom to make choices, and Taste of Oshkosh points students in the right direction.
"I believe that Taste is especially crucial to incoming freshmen because it gives them an opportunity to make independent decisions about the people they want to be and the things that define them right from the beginning," Thomsen said.