Ice carving, broom ball, Penny Wars, oh my!
Reeve Union Board's annual Winter Carnival began on Friday, Feb. 23 and included winter festivities such as ice sculpting, broomball, banner decorating, Penny Wars and trivia.
The festivities will come to an end on March 1 with a trailer viewing and awards ceremony at 6:30 p.m. in Reeve Union Theater, room 307.
UWO senior and special events chair of RUB, Clara Hewins, helped coordinate the events this year.
"Our theme this year is science fiction and everything that the students do, with the ice sculptures, and banners, trailers, are supposed to correlate what they do to their specific theme," Hewins said. "So each of them get a smaller theme, so a couple of groups did 'Stranger Things', 'Back to the Future' and 'Star Wars'."
Many of the groups this year were Greek Organizations and residence halls, but independent groups were also welcome to join in. The Wildlife and Conservation club is participating this year as well.
"If you're part of a student organization, if you're part of a hall, or Greek Life or an independent group, you can come and sign up and register," Hewins said. "We will have an information meeting where you can come and learn about everything, and then the registration meeting is where you come to sign up if you want to participate."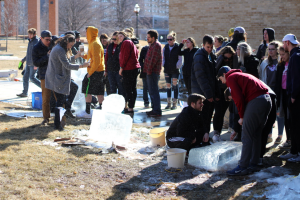 UWO student Mason Dehaan was at ice sculpting for Fletcher Hall and said he was enjoying himself at the event, making plenty of jokes about it.
"We're with Fletcher Hall, we're 'Back to the Fletcher', a play off of 'Back to the Future', and we are carving Doc. Emmett Brown," Dehaan said. "The most satisfying part has been just stabbing the ice; it's just good stress relief."
While it may be a good way to relieve some stress, the sculptures themselves won't be lasting very long in the heat.
For the past week, they have also been doing the Penny Wars event, which involves raising money for a charity.
UWO sophomore Ali Brownlow was at Ice Sculpting for Donnor/Webster Hall. Her team was carving an Eggo on top of a box. Her team's theme was 'Stranger Things'. She also said some of the events they participated in and explained how Penny Wars works.
"Every team gets a bucket, and it's for raising money for a charity," Brownlow said. "You keep putting pennies in the bucket and it adds up to how many points you have. So let's say you have a hundred pennies in the bucket, that's one hundred points, but anyone can put in any larger change or dollar and level out your points. It gets pretty competitive."
The event is a good way for residence halls to raise money for charity, and have a little fun while doing it.