Fredric March tied to KKK
UW Oshkosh's Fredric March Theatre was named after Ku Klux Klan affiliated member Frederic March, a 1930s and 1940s actor, who is currently being investigated by UW Madison, according to the Daily Cardinal.
The story, which was written by Nina Bertelsen, informed the public of a task force group that was created to investigate UW Madison, which also has a theater named after March, and advise them with its past affiliation with the KKK.
Members of this affiliation include actor Fredric March and longtime UW Madison Memorial Union director Porter Butts.
March is pictured in the 1921 Badger Yearbook with the rest of his fellow members.
UW Oshkosh University Archivist and Communications Librarian Joshua Ranger said March was in fact affiliated with a social club that was titled "Ku Klux Klan."
"I don't think that fact is up for debate," Ranger said. "He was in the Ku Klux Klan."
Ranger also said it's important for everyone to understand the context of this issue.
"But you have to understand for many years, there was a club called the Ku Klux Klan, but they weren't the same as the ones you hear about in the South that would terrorize."
Ranger said it's time for the University to decide if they need to look into changing the name due to past history.
"The question needs to be asked, is it appropriate for [UWO] to name, or continue to call buildings in honor of people who have had these questionable loyalties and political beliefs." Ranger said.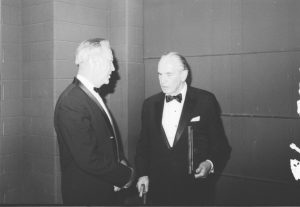 UWO theatre professor Roy Hoglund said the decision to name the building after March was because of his well-known name.
"They wanted to name the theatre after a big name that had ties to the state of Wisconsin," Hoglund said.
UWO named the Theatre after March in 1971, nearly 50 years after he was said to have been involved with the Ku Klux Klan.
Hoglund said looking at March's past, it's important to think about the amount of time between the events and the naming of the building.
"Most of us, we look at the timing of all of this [and think] 'Was he a different person by the time the building was named after him?' We don't know," Hoglund said.
The task force is currently undergoing an investigation determining the motive behind this group. The deadline for the investigation was set for Dec. 1, 2017, however that deadline was not met.
UWO Chancellor Andrew Leavitt said he would like to wait until the task force has concluded its investigative process before making any decisions.
"I think what our approach needs to be is, since Madison is the one doing the work at this point, I would like to wait until their report is out and that way we can look at it and make any determination then," Leavitt said. "We have some very knowledgeable people on campus whom I would ask to take the lead on it."
Leavitt said while this is a very serious issue, he said more information needs to be presented.
"I think that's a difficult thing to be affiliated with [the KKK]," Leavitt said. "I don't know enough about it yet. One of the things I'm looking forward to is reading the report, I hadn't even heard about this until you contacted me. Clearly, the Ku Klux Klan has a long and horrendous history of terror and oppression in this country, and it's obviously something that needs to be explained."
Leavitt said looking to the countries history, there are many flaws that were prevalent even in our country's leaders.
"Conversation, and knowledge is the way to go. I think if we look deep into the past of American history, you're going to find a lot of conflicting situations," Leavitt said. "We have people who founded this country that were slave owners. We revere today for part of what they did, but we revile in more recent years for the things they have participated in having to do with slavery."
Ranger said the task force will take its time to insure that the right decisions and determinations will be made.
"I think that's what this (task force) group in Madison is looking into right now," Ranger said. "They're not necessarily doing a knee-jerk reaction saying 'we have to change the name of this theatre.'"
UWO Theatre professor Roy Hoglund said there are movements today that highlight this very issue, such as the #metoo movement.
"We have just gotten done with this #metoo movement, and what that has done for us is we look at people who we revere, and we end up looking at them in a negative way," Hoglund said. "And I don't know if we can separate the two from each other."