Shamrock Shuffle raises funds for UWO Veterans Association, Oshkosh United Way
The Oshkosh Area United Way and the UW Oshkosh Student Veteran Association received donations through the Shamrock Shuffle, a 5K run/walk that took place on Saturday morning.
Students began the 5K outside of the Student Recreation and Wellness Center with a variety of green clothing and Shamrock Shuffle T-shirts.
Associate Director of the SWRC Tony Dirth said he worked closely with the city, the county and the campus.
"One of the other big parts is all the volunteers, at last count we had over 80 volunteers for this event, so that's really exciting that mostly student orgs want to do this," Dirth said. "We are making sure that [everyone] has a good experience, from when they are registering to race day, that things are organized and neat and clean and well marked and the course is nice in order to have a good time."
Dirth said the event is great for students in many different ways and that it is a good health and wellness opportunity.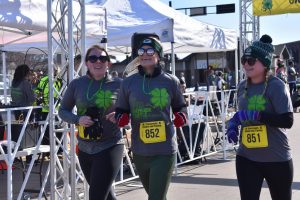 "As spring kind of approaches there's a need to have some sort of physical activity that's coming up, so a 5K kind of kick starts your spring and your warmer months, and we kind of value that opportunity to build somebody's health and active lifestyle," Dirth said.
Lieutenant Trent Martin, the emergency and events manager for the University Police Department, said they meet with the SRWC months in advance to plan the race and they also pair with the Oshkosh Police Department.
"We've kind of kinked out the flaws that we've had in the past and made it a really successful event," Martin said. "And so there's not any major issues currently that we face other than the need to reroute some traffic, which is pretty minimal."
Martin said the event is beneficial because it gets the campus community involved and getting students that live on campus the opportunity to attend without having to travel a far distance.
"They can come walk within a couple blocks and run a 5K and be able to support our on-campus organizations like the Student Veterans Association and the United Way throughout the city of Oshkosh," Martin said.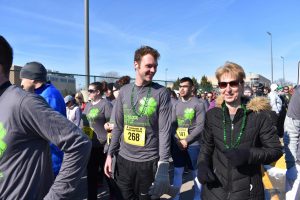 UWO student Lindsey Jaeggi said since college she's done the shamrock shuffle every year with her roommate.
"It's such a fun event because you can enjoy some exercise while hanging out with friends," Jaeggi said.
Dirth said he likes the community aspect of the event and that it's neat to see students connect with other members on campus and the community. He said there is about 1,000 participants every year.
"The other good part about it that I think is really neat is just the community aspect of the event," Dirth said. "I think probably 80 percent of the people that run in our race are part of teams and so you see teams of student orgs., whether it's Greek Life or academic departments on campus, and so people are able to come together in their little groups and participate in a bigger group activity."