Team Wisconsin competes in annual tournament
Special Olympics Wisconsin's State Indoor Sports Tournament kicked off on Saturday, April 7 in Kolf Sports Center for the 35th consecutive year with 3 versus 3 unified basketball tournaments, followed by an exhibition game played by Team Wisconsin.
Team Wisconsin is a group of Special Olympics athletes from all over the state who come together to practice their basketball skills and compete at tournaments.
During the opening ceremony before Team Wisconsin took the floor, Vice Chancellor for Student Affairs Cheryl Green presented the Chancellor's Spirit of Sport Award to the Waupaca Area Special Olympics. The award went to the team that demonstrates sportsmanship, camaraderie and teamwork during the 3 versus 3 tournament.
Team Wisconsin faced a team of other Special Olympics athletes who were already at the tournament competing for their agency teams. They were invited to play against Team Wisconsin by the Special Olympics staff.
Team Wisconsin will be heading to Seattle this summer for the 2018 National Special Olympics USA Games which occurs every four years.
UWO men's basketball head coach Pat Juckem said having the Special Olympics at UWO is an honor.
"We've had a longstanding relation with Special Olympics, so the tradition of having these athletes from across Wisconsin coming to Oshkosh is great," Juckem said. "Many of the [athletes] look forward to coming here to play basketball, compete and catch up with their friends."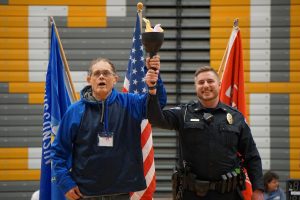 Team Wisconsin athlete Corey Ehrgott said he has been looking forward to competing at UWO.
"This is my last year, and I said, 'Lets make it all the way to Oshkosh, and we did.'" Ehrgott said.
Chad Oeftger, Assistant Team Wisconsin Coach and special education teacher in Neenah Joint School District, said Special Olympics helps his athletes in many ways.
"They get a chance to get out of the house and be a part of the community," Oeftger said. "They get a chance to get fit and be active, which is huge."
Ehrgott said he is passionate about being a part of Special Olympics and Team Wisconsin.
"It's really fun; you get out and meet a lot of people from Wisconsin and other states like North Dakota," Ehrgott said.
Team Wisconsin athlete Chris Jones said he loves basketball and has been preparing all season for this event.
"I've been practicing a lot, there's a big game tonight and I'm excited to get it started," Jones said.
Oeftger also talked about some of his goals for Team Wisconsin.
"Our strategy right now is to have our Team Wisconsin get better, you know run some of the plays that we ran in practices and just basically get better and better so when we go out to Seattle this summer, we are better prepared to win." Oeftger said.
Oeftger said working with the athletes on his team has been an amazing experience.
"I am so lucky to be a part of this team," Oeftger said. "Every athlete on Team Wisconsin is amazing, and I love working with them."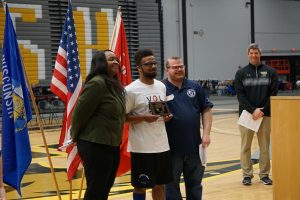 Student Amanda Beistle said having this event at UWO benefits the entire campus.
"I think this event shows how inclusive our campus is," Beistle said. "This event kind of brought a new light to how I thought about our campus and how inclusive we really are. It's a great time being here. Just seeing how excited the athletes get is awesome."
Oeftger said he is honored and excited to be at UWO with his team.
"This is their showcase game tonight for Team Wisconsin," Oeftger said. "This is the 'SuperBowl' for the Special Olympics basketball season. Being here is amazing."
Marc Nylen, Gruenhagen Conference Center director, said he wants to make the athletes feel welcomed at UWO.
"The goal is to have the athletes feel like they are doing something special, and you can see that when they are playing in our fieldhouse," Nylen said.
Team Wisconsin Athlete Michael Poll expressed how much he loves being a part of Team Wisconsin.
"It's a dream come true joining the Team Wisconsin basketball team," Poll said. "I cannot wait to play with my teammates."