9th annual LGBTQ Ally March hits the streets
Citizens got out of their cars, students came out of their houses and employees from Hardee's gathered at the drive- thru window as students and staff chanted, "Hey! Hey! Ho! Ho! Transphobia's got to go!" down High Avenue.
UW Oshkosh's ninth annual LGBTQ Ally March kicked off Thursday at the Reeve Memorial Union ballroom where students could attend a resource fair and listen to allies give their testimonials before taking to the streets to begin the march.
Sponsors including Titan TV, Undergraduate Advising Resource Center, UWO Police Department, Oshkosh Student Association and Polk Library had booths at the resource fair that offered support and information on their services to the LGBTQ community.
Speakers Chancellor Andrew Leavitt, LGBTQ Resource Center Director Liz Canon, Director of the Social Justice minor program Courtney Bauder, kinesiology student IIizah Portmann, co-facilitator of NEW LGBTQ Plus Round Table H. James and graduate student Nancy Hart spoke to students and staff in attendance about the importance of support and equality among the LGBTQ community.
LGBTQ Ally March Coordinator Anne Van De Hey said the sponsors who were present at the resource fair are resources that advocate for the LGBTQ community.
"The resource fair shows people on campus the resources available and all the businesses and organizations that support them and validate their existence, which is so hard sometimes to feel like you are welcome and loved and this community is very welcoming so it's nice to see that," Van De Hey said.
Canon said the ally march served as a pride march that students could participate in during the school year.
"We do this march as sort of a combination of a celebration of the LGBTQ community kind of like a pride march," Canon said. "A pride march is typically in June or in the summer and we wanted something that was during the semester."
Canon also said the ally march helped to gain more allies in the community and to better serve existing allies.
"We also wanted a time to really look at how important allyship is to this community, but also how we in the community are allies to each other and that our movement can't actually progress without the connection with allies," Canon said.
"It's also really a time for people to recommit to being an ally to this community and to think about what that actually means," Canon said. "Ally is not a noun, it's a verb, so you don't get to say that you're an ally and then do nothing; you have to actually think about what are the concrete things that I do in my everyday life that make a difference."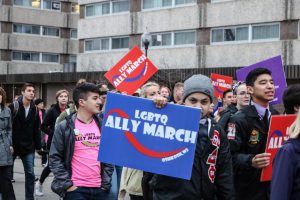 Van De Hey said the event brought the LGBTQ community and those unfamiliar with the community together.
"I feel like the march is really important because it not only allows allies to show their support for the community, but it also serves as a way to unite the community," Van De Hey said.
Co-leader of the LGBTQ groups Roan O'Connor said without these events, it can be difficult to find support.
"I think it's really important for us to be visible because it's hard to walk through the student body and be able to pick out people who are visibly queer, which makes it hard sometimes for people who are just coming into the student body to feel like they are welcome," O'Connor said. "Having these public open events and showing all the solidarity for these students for me was really important when I transferred."
UWO student Mariah Heyden said being an advocate means showing up and being supportive.
"I'm personally marching because I wanted to support my friends and show support for them," Heyden said.
Hart said she was marching to make a positive difference.
"I want to help transform all the intolerant views, all the hateful views into inclusion and acceptance and respect for everyone," Hart said.
UWO student Mallory Gardas said she hopes this event will draw more support from the campus and community.
"I am marching because I think it's a great cause and I would love to see a lot more support for our LGBTQ community on campus and around Oshkosh because I think they can never get enough support especially with all the negativity in the news and in the media right now," Gardas said.
Van De Hey said ignorance occurs when awareness is not present.
"I think it's important to create awareness in the community because sometimes it's easy to turn a blind eye and essentially ignore it if it's not brought up," Van De Hey said.