Democrats take control of the House
Democrats took control of the U.S. House of Representatives while republicans maintained their majority in the Senate after Tuesday's midterm elections.
Tony Evers became the 46th governor of Wisconsin after defeating republican Scott Walker.
Democrat Tammy Baldwin won her re-election bid in the Senate, defeating republican Leah Vukmir.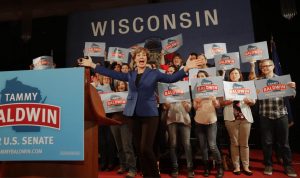 UW Oshkosh student Gabrielle Newman said many students participated in the midterm election because the 2016 presidential election made students understand how important voting is.
"I think it's important for college students to know that [the midterm election] is important even as much as presidential elections, if not more so…," Newman said. "These are the issues that directly affect us in Wisconsin; they affect how much tuition we pay, the roads we drive on, and those are direct Wisconsin things."
According to unofficial returns from the Associated Press, about 2.7 million Wisconsinites voted in the midterm elections.
Executive Director for Campus Life Jean Kwaterski said in an email that 1,602 votes were cast on campus this midterm, up nearly 4 percent or 59 votes from the 2014 midterm election.
UWO political science professor David Siemers said high voter turnout is a trend that could continue in Wisconsin.
"Where the stakes are higher, there's more turnout, and people are perceiving the stakes of politics to be higher these days than in the past," Siemers said. "I wouldn't expect that to change in 2020."
UWO student Matthew Gill said it's important that students on both sides go out to vote.
"It's important that students feel like they're represented because we have a representative government," Gill said.
Siemers said democrats controlling the House is important because it gives them oversight power.
"Investigations of the administration have been languishing under the republicans," Siemers said. "Now expect investigations into the Trump administration to be much more serious, including possible corruption in his cabinet and potential tax evasion by the president himself."
Benito Cruz-Sanchez, organizer for NextGen Wisconsin, a voter registration group, said the democrats taking control of the House is important because they can put checks on President Trump.
"Young people — college students — aren't comfortable seeing kids in cages, we're not comfortable hearing rhetoric from the president about women, we don't like that," Cruz-Sanchez said. "We feel with democrats taking more seats there's going to be more representatives and people standing up to Donald Trump."
Patricia Malesa, membership chairwoman for the Winnebago County Republican Party, said democrats taking control of the House could make Congress even more gridlocked.
"I don't know that I would want to put a check on [Trump]; look at what he wants to do to the economy, look what he wants to do to protect the country from our southern borders especially," Malesa said.
UWO student Kaitlyn Walker said she voted for Tony Evers for governor because of his previous experience as an educator.
"As a future teacher, I don't think it's smart to have people making decisions on education that have never been a part of that community," Walker said. "There's a lot of things that people don't understand when they aren't involved in it."
Winnebago County Democratic Party Volunteer Coordinator Pam Henkel said Tony Evers becoming governor is a good thing for Wisconsin because he will put more funding toward education.
"Evers and Mandela Barnes will reach across the aisle and they will work with the republicans on infrastructure, as long as they [the republicans] work with them," Henkel said.
Malesa said she doesn't think that Evers will work with republicans.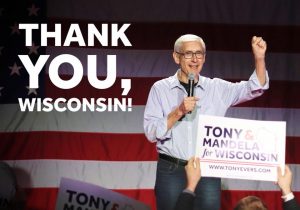 "With how he feels about open borders, how he feels about a one-party system of health care, I don't know that he would really truly work with anyone from the conservative party," Malesa said.
Evers will have to work with republicans if he wants to pass state legislation because the republicans held their control of the state Senate and Assembly.
Siemers said that having a divided state government means that both parties will have to work together in order to pass legislation.
"Everything in the state moving forward will be a result of negotiation and compromise and fighting between the two parties," Siemers said. "We'll have a less partisan outcome, but more partisanship in politics."
Wisconsin Attorney General Brad Schimel, who lost his re-election bid to democrat Josh Kaul, said he hopes both political parties put their differences aside to pass legislation.
"If you go back to when [republican] Tommy Thompson was governor, both sides of the state legislature were controlled by democrats and were able to get things done, and I would like to see that again," Schimel said.