UWO honors victims of Pittsburgh shooting
The UW Oshkosh Campus Center for Equity and Diversity held a community vigil for victims of the Pittsburgh Synagogue shooting Oct. 27. Students honored the 11 victims by lighting a candle for each of them, followed by a moment of silence and other ceremonial events.
Chancellor Andrew Leavitt said the hatred displayed in Pittsburgh should have no place in this world.
"Hatred and bigotry should have no safe harbor and it certainly should not have safe harbor here in Oshkosh," Leavitt said. "So when we see something like this we must speak out as a community to certainly condemn it and to work together to try and address the underlying causes of it."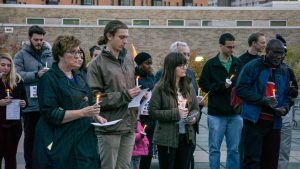 Leavitt and UWO religious studies professor Kathleen Corley Schuhart gave short speeches as part of the vigil.
Andy Solomon of the Congregation B'Nai Israel led the crowd of about 30 to 40 people in a blessing and the ceremonial Mi Schebereich while the crowd's candles lit up the patio above Albee Hall.
UWO sophomore Emily Bailey said people need to be more aware of what has happened.
"Even though we're a smaller community and it happened far away, we need to spread awareness around campus and all over the world," Bailey said. "People need to be more aware. There's a small Jewish community here, but other faiths and other communities need to be aware of Judaism and what happened."
Event coordinator, UWO communications professor and Chair of UW Oshkosh Interfaith Dialogue and Education Alliance Jennifer Considine said there are two reasons UWO hosted the vigil.
"I think for me there are two purposes: one is to allow people to mourn," Considine said. "I think anytime when we encounter a tragedy like this, particularly one that was inspired by such hate, we need to come together and stand together as a community. Certainly, it's to allow us to mourn, but also to recognize that we have Jewish students, faculty and staff and a synagogue that is our neighbor right here in this community."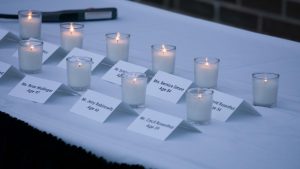 Leavitt said there are changes that need to be made to ensure that shootings like these do not prosper in the world.
"There are always very complicated situations," Leavitt said. "There are a number of facets to it including access to firearms, to mental health issues along with creating an environment where hatred can flourish and grow. So that's what we need to fight against is that environment."
About the Writer
Neal Hogden, Managing Editor
The College of Letters and Science at UW Oshkosh is proposing to increase teaching loads in 2019-20 in an effort to overcome a $1 million budget shortfall.

Under...