34 particpants in Black Thursday share their experiences
Chancellor Andrew Leavitt presented 34 surviving members of the 'Oshkosh 94' with the Chancellor's Medallion at an event remembering Black Thursday's 50th anniversary at the Arts and Communications Center Wednesday night.
Journalism professor Grace Lim presented a short film depicting the lives of the Oshkosh 94 after their expulsion from UW Oshkosh, and history professor Stephen Kercher presented a dramatization of the events of Black Thursday.
The event exceeded capacity, causing the staff to open other rooms in the A&C, allowing visitors to watch a stream of the event.
Leavitt said the ceremony was important because it promotes healing between the school and the Oshkosh 94.
"We've been in a process of healing with the Oshkosh 94 for many years," Leavitt said. "This is an important milestone in terms of that reconciliation, remembering the 50th anniversary of this event."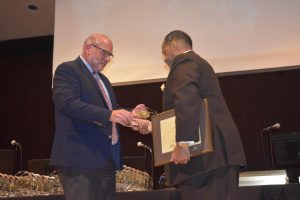 Leavitt said students should remember Black Thursday because if we forget history, we are doomed to repeat it.
"It's important for our students to know what past students have done to help create the kind of environment we have today," Leavitt said. "It's because of the action taken by the Oshkosh 94 that really began this process of trying to create a more inclusive environment."
Leavitt said giving the members of the Oshkosh 94 in attendance the Chancellor's Medallion is fulfillment of a promise that was unkept by the University.
"They came here to learn, to grow and to get a degree, and they were met instead with intolerance, indifference and finally expulsion," Leavitt said. "This is our small way of acknowledging that they were part of a life-changing event, not only for them but for the institution."
Oshkosh 94 member Henry Brown III said he doesn't see receiving the medallion as reconciliation.
"The Chancellor's Medallion is an appeasement," Brown said. "I had to wait 50 years to hear the truth about how I was treated. But I'm happy because I see the lives of my classmates; they turned lemons into lemonade."
Lim said interviewing members of the Oshkosh 94 for the documentary she made was an honor because they're real-life heroes.
"They may not have known it then, but I sure hope they know it now," Lim said. "Their actions on that fateful day had a positive ripple effect that is still felt today."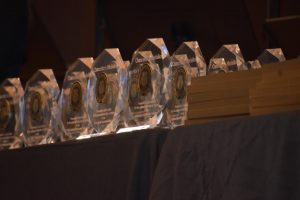 History professor Jeffrey Pickron, who was on the planning committee for the 50th anniversary event, said having the Oshkosh 94 back on campus gives current students a glimpse into the past.
"It's so important to make them feel important because they did a lot, and I really admire the 94," Pickron said. "The fact that they're here 50 years later and feel that people have come around and that they appreciate them, that's as important as it gets."
Pickron said interviewing members of the Oshkosh 94 taught him a lot about overcoming adversity.
"[Black Thursday] was in many ways a defeat for them, but many of them remained proud of it and continued on and did great things with their lives," Pickron said. "It tells you the importance of standing up for what's right, and you can't expect to be rewarded immediately, maybe you won't be rewarded at all, but it's still the right thing to do."
UWO student and Black Student Union member Idonis Curtis said Black Thursday was a milestone, despite its effects not being felt until much later.
"[Black Thursday] created the foundation for other students to be on campus and have faculty and courses to be taught about them amounts to so much," Curtis said.
Brown said that despite the progress made in society to eliminate racism, there's still work to do.
"There's still plenty of work to do in this country," Brown said. "It's up to your generation. You're the leaders now; you have to be the boots on the ground."