Suspects in armed robbery at large
An ATM security guard was involved in an armed robbery outside of the entrance of Reeve Memorial Union near the UW Credit Union at 8:40 a.m. Wednesday.
University Police Chief Kurt Leibold said during a news conference that two armed men targeted a daily Thillens ATM cash courier. The courier didn't have any money on him and doesn't typically travel with money on campus. The men took the courier's gun, but did not physically harm him.
According to Leibold, the company has been targeted three other times in the Madison area since September. Leibold said he believes the suspects are heading back to the Madison area and that the suspects appear to be the same crew from the previous robberies.
According to Leibold, the men were waiting to rob the courier near Horizon Village. Following the robbery, the men ran past Horizon and up the staircase by the dumpsters.
"Then they went down Elmwood, took a left down Amherst where the car was waiting for them," Leibold said.
The two armed men fled the scene on foot, then got into a tan, four door, late '90s vehicle, traveling away from campus.
"Based on our viewing o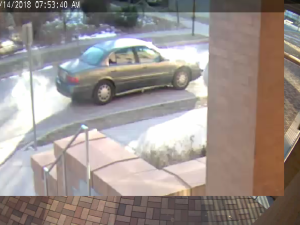 f surveillance cameras, it appears that these men may have been casing the area for some time prior to the robbery," Leibold said.
One suspect is described as a thin, short black male with dark jeans, a dark hoodie and Adidas shoes with a red symbol and red bottoms. The other suspect is a white or biracial male with a black jacket, light hoodie and a brown ski mask. Both suspects are described to be in their early 20s. The driver of the getaway vehicle is also described as a white or biracial male.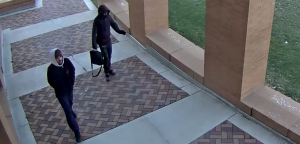 "We immediately worked with the Oshkosh Police Department," Leibold said. "We saturated out neighborhoods and attempted to find the suspects before they fled the scene."
Information has been given to the county and state patrol in order to assist in finding the suspects. Leibold said he plans to work with the courier to have less of a routine in his visits.
In a campus-wide email, Chancellor Andrew Leavitt called the incident unsettling and aberrant.
"Aided by eyewitness accounts and surveillance footage, University Police also quickly determined the perpetrators had immediately fled campus and posed no ongoing threat," Leavitt said.
"At no time did I feel that the campus was in jeopardy," Leibold said. "This robbery, we knew right away, was a targeted event, and based on surveillance information and witness statements, we knew that the suspects had fled immediately."
Leibold said every situation needs to be looked at individually with decisions made in that moment.
"And that's often what I have to make our citizens, our community, understand; we have to make decisions, oftentimes very quickly with limited information or ambiguous information, still knowing, oftentimes, that the information we are getting isn't going to be correct," Leibold said.
Leibold said in this situation, they were able to respond quickly because the scene was so close. They immediately found the victim, who reported that he wasn't surprised because his company had been targeted several times over the previous month.
"At this point, knowing that it's not a random robbery, that they're not just targeting anybody who just happens to be walking by, that brings the urgency down just a bit," Leibold said.
Leibold said a Titan Alert was sent out to the campus within minutes after the incident occurred.
"It was my decision not to put a 'shelter in place message' because I didn't think there was a threat to this campus anymore, and I was concerned that that would elevate the fears more on this campus."
The Fox Valley Technical College Riverside campus and Reed Elementary had lockdowns following the Titan Alerts.
"They were making decisions based on our Titan Alert, our initial information we put out," Leibold said. "They didn't have all the information we had, so they made those decisions based on what they felt they had to do."
Leibold said it's difficult to lock down a campus this big.
"If we felt it was really necessary, we would have told the students and staff to shelter in place, which means remain where they are or get where they're going to be," Leibold said. "But we knew immediately that these suspects had fled campus and were no longer a danger to this campus."
Leibold said it's unfortunate that these incidents are common in the urban area of America.
"And it's horrible when it happens on our campus, and I get it," Leibold said. " But we can't confuse this incident with an active shooter; it was a different set of circumstances."
Sodexo worker Judy Scott was in Reeve when the incident occurred and said she found out about the robbery through her daughter.
"My daughter goes here and, well, she's not here today, but she was calling me, texting me, asking if I was OK because she had heard about it from the Titan Alert," Scott said. "But I don't understand because we didn't get them, and we're signed up for them. And they said that they didn't want to alarm us or worry us so that's why they didn't come around and tell us."
Scott said she feels 100 percent that the building should have been locked down.
"Your manager should come in and talk to you and tell you, like gather up or something, so everybody knows," Scott said.
UWO freshman Brooklyn Nettekoven said she feels that teachers need a plan for armed incidents such as this one.
"I know there was one person who was in class while it happened and the teacher was like, 'I don't know. Do I shut the door? What do I do?'" Nettekoven said. "So when stuff like that happens it's freaky, but it seems like the professors don't exactly know what to do. They have numbers to call, but what do you do?"