UWO PRSSA takes 1st place at nationals
Students at UW Oshkosh took first place at the PRSSA National Conference in Austin, Texas for their "Cycle of Life" campaign they held on campus.
UWO's Public Relations Student Society of America chapter sent four students to Austin for the conference where they have now collected two consecutive top-three awards for their campaigns.
PRSSA put the campaign together and orchestrated the campaign through a litany of events.
The campaign focused on organ donation by featuring Bill Conner, who biked 2,600 miles to hear his late daughter's heart beat in the recipient's body. Conner talked to students about his journey and told them about the importance of organ donation.
The Student Recreation and Wellness Center also held a 26 minute cycling class to honor Conner's 2,600-mile trek.
UWO PRSSA President Brianna Colebourne said in a press release that the campaign was focused on the many benefits of organ donation.
"Our chapter feels that Cycle of Life was an honest and genuine campaign focused on bringing even more positivity and grace to the conversation around organ donation," Colebourne said. "The cycling theme helped relate organ donation to a story that millions of people across the world followed."
Fifty UWO students signed up for the national organ donation registry over the course of the campaign, making it one of the more successful campaigns UWO's PRSSA chapter has conducted.
PRSSA Vice President Abby Reich said students signing up for the national organ donor registry was a rewarding part of the campaign.
"When we were presenting facts and statistics to students, many of them were shocked with the results and were brought to an immediate call to action," Reich said. "We had a sign up for the national registry that would benefit many organ donor recipients and could potentially save their lives. Students who signed up really felt like they were making a difference in the world, and I think that is a great feeling to bring to the UW Oshkosh community."
Reich said this achievement is one of the best the chapter has ever experienced.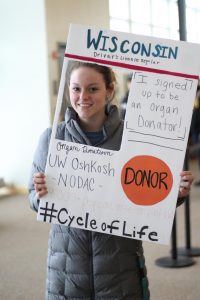 "While we have implemented multiple campaigns on behalf of organ donation, this one was the most successful, and we competed against a bunch of amazing schools who put on great campaigns as well," Reich said. "We worked tirelessly on this campaign for an entire semester and almost everyday in the month of April. It was great to see that all that hard work really paid off."
PRSSA adviser Kristine Nicolini said winning this award was great for the UWO PRSSA chapter and the students involved.
"It is very exciting," Nicolini said. "We did not participate in NODAC for a few years and then last year was the first attempt in several years at putting together this campaign. They placed second with a really great campaign called 'Blooming Lives' and then to come back a year later and not just defend that but actually take first place in the nation is really neat."
About the Contributor
Neal Hogden, Managing Editor
The College of Letters and Science at UW Oshkosh is proposing to increase teaching loads in 2019-20 in an effort to overcome a $1 million budget shortfall.

Under...